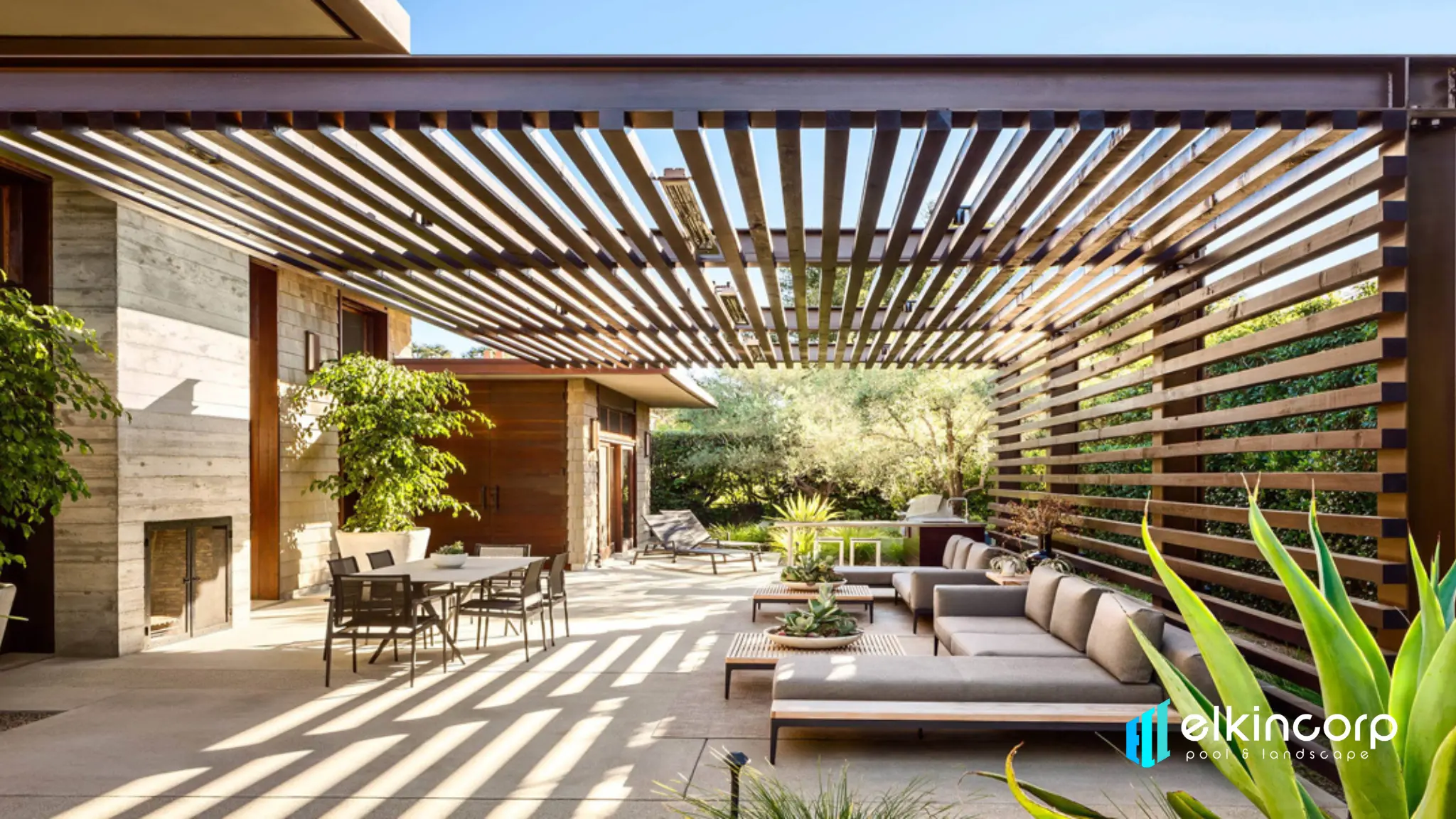 Top Pergola Builders and Contractors in Dubai
Elkin Landscape is a highly-rated team of pergola contractors serving Dubai and the UAE. Pergolas enhance the appearance and ambiance of your home. Elkin Landscape Company is a skilled pergola construction company in Dubai, creating and installing distinctive and high-quality pergola features for your outdoor area. We are also a prominent supplier of pergolas in Dubai.
We build our unique outdoor pergola designs in houses, villas, and commercial spaces. It gives a welcoming vibe to your visitors. Elkin Landscape is one of the leading pergola suppliers and manufacturers in Dubai and nearby areas. Reach out to us for the best pergola construction in Dubai.
Elkin Pool and Landscape specializes in taking on pergola projects, designing and building the best and most distinctive pergolas in Dubai. Our team is skilled in constructing pergolas that enhance the beauty of your garden. We handle the design, construction, and manufacturing of pergolas. As one of Dubai's most reliable pergola companies, Elkincrop is a top choice for wooden and aluminum pergola supplies.
Why Consider Us for Building Your Pergola in Dubai?
Elkin Landscape Dubai always prioritizes the interests of its customers above everything else.

Elkincrop offers Pergola design and construction at a very affordable rate.

We have many years of experience in the industry, building numerous distinct pergolas and landscapes that have left our clients highly satisfied.

We've become one of the top pergola construction companies in Dubai primarily because of our work.

We specialize in installing swimming pools and pergolas around pools in Dubai.

No need to repeat it, but we assure you of our quality, pricing, and your pleasure.
Builders and Design Services for Pergolas in Dubai and Nearby Areas
We at Elkin Pool and Landscape are the top pergola contractors in Dubai. We provide world-class pergola design and installation tailored to your specific needs. Your landscape is what catches the attention of visitors more than your interiors. While you may have an impressive facade for your office or house, having a garden landscape complements the overall beautiful view.
We are a highly rated pergola builder in Dubai and throughout the UAE. In Dubai, most villas have outdoor landscapes designed and constructed. As a company based in Dubai, our company is fortunate to have experts in the industry working for our valued customers. Our top priority is always customer satisfaction.
Our skilled professionals in the industry design your outdoor space to surpass your expectations, making it stand out as a unique landscape. We are dedicated to delivering high-quality service to our customers. Contact us today, the top pergola design and construction company in Dubai.
Why Choose Our Pergola Construction Services in Dubai?
Elkin Pool and Landscape Company is one of the best-rated pergola contractors in Dubai and nearby areas. Your outdoor space can be divided into 3 or more parts based on your needs, like public, private, and living areas. The public area should be welcoming to guests. Adding architectural elements such as pergolas to the pathways and front yard makes them look appealing.
We use top-quality wood and materials that are well-suited for the weather in Dubai in building our pergolas. As professional-rated pergola contractors in Dubai, we construct different types of pergolas, including WPC, wooden, aluminum, and more.
Pergolas aren't just beautiful; they provide excellent shade and a wonderful seating area for your friends and family. Constructing a pergola in your Dubai villa blends with nature and enhances its natural beauty.
Trusted Pergola Contractors in Dubai
Elkin Pool and Landscape is a top-rated pergola construction company in Dubai, leading in pergola design, manufacturing, and supply in Dubai. We give our all to build the best for our customers. We take pride in not overpricing and not compromising on quality. Our customers, satisfied with our work, become our brand ambassadors, taking us to another level.