Know 10 Landscaping Ideas from Backyard Contractors in Dubai
Landscaping Ideas from Backyard Contractors in Dubai 10 Trendy Ideas
Are you looking for trendy ideas to decorate the backyard of your house in an original way? Do not look any further! Contact the backyard contractors in dubai.
Whether you like modern or traditional styles, whether you are a plant lover or a fan of relaxation spaces, you are sure to find an idea that you like. So, get out your notepads and get ready to be inspired!
In this article, landscape and pool contractor offer you 10 inspiring ideas to transform your outdoor space into a true haven of peace.
Discover 10 Trendy Ideas For Landscaping Your Backyard
No matter what type of ambiance you want to incorporate into your yard, setting up this space is a great place to express yourself and let your creativity flow.
Whether you have a small or large backyard, there are many ways to create a personalized outdoor space that meets your needs and wants. If you're here, it's probably because you're looking for inspiring ideas to transform your backyard into a functional and aesthetic outdoor living space. We are one the best backyard contractors in dubai.
Don't wait any longer and explore now 10 trendy ideas from landscape and pool contractor to consider to create a unique outdoor space.
#1. A Relaxation Space Without Having To Leave Your Home
How about relaxing and rejuvenating while at home? Whether you want to have your morning coffee, read a good book, do yoga or simply make the most of your days off, the relaxation area is a must.
For a friendly and warm atmosphere, this can include features such as:
A sectional sofa
Sun loungers
Cocoon chairs
Hammocks
Swings
Tables Accessories: a rug, cushions, a parasol, blankets and much more
To have an even more relaxed atmosphere, you can add features such as fountains, water features or rock gardens to create a peaceful natural environment.
If you are looking to maximize your outdoor space and enjoy a private and comfortable place to relax, create a relaxation area. Get help from Elkin Crop is one of the best pool and landscape contractors.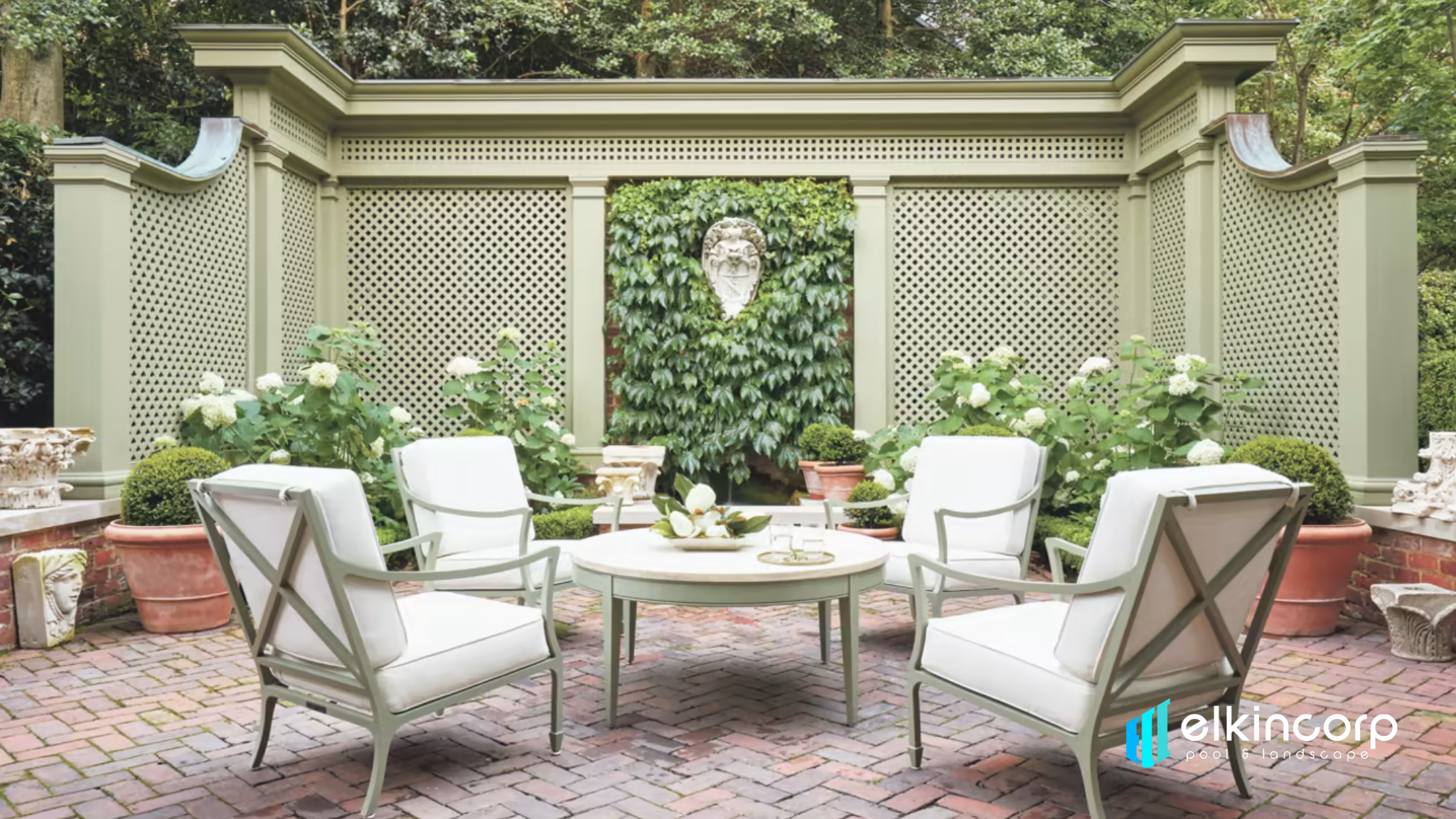 #2. Setting Your Privacy with Greenery
It is well known that plants are a practical, but also aesthetic, solution. You still need to know how and where to put your flowers and plants.
If you don't know where to install your plants, consider framing your areas, terraces and patios! Designing an illusion of the outdoors by providing a green structure to your yard generally creates an effect of grandeur. Handover the responsibility to make the unique backyard to one of the best backyard contractors in dubai.
In addition to adding privacy, plants can also bring color and texture to your backyard outdoor space.
#3. Say Yes to Light Garlands for A Cozy Atmosphere
They don't need any introduction, it's certain that you've already seen them at friends' houses, neighbors' houses or even on the terrace of a restaurant.
Having taken over the balconies and courtyards of high living areas of Dubai. Light garlands are an excellent way to create a cozy atmosphere in your backyard.
These decorative lights are available in a variety of styles and colors to suit all types of outdoor spaces, and they can be hung from trees, patios, pergolas and other structures to create a cozy ambiance and welcoming.
Landscape contractor in dubai can bring power by electricity or solar energy for easy and convenient installation, and you can use to light summer evenings and special events.
Adding rope lights to the backyard is a great way to create a romantic or festive ambiance while adding a touch of style to your outdoor space by a specialist of pool and landscape contractors.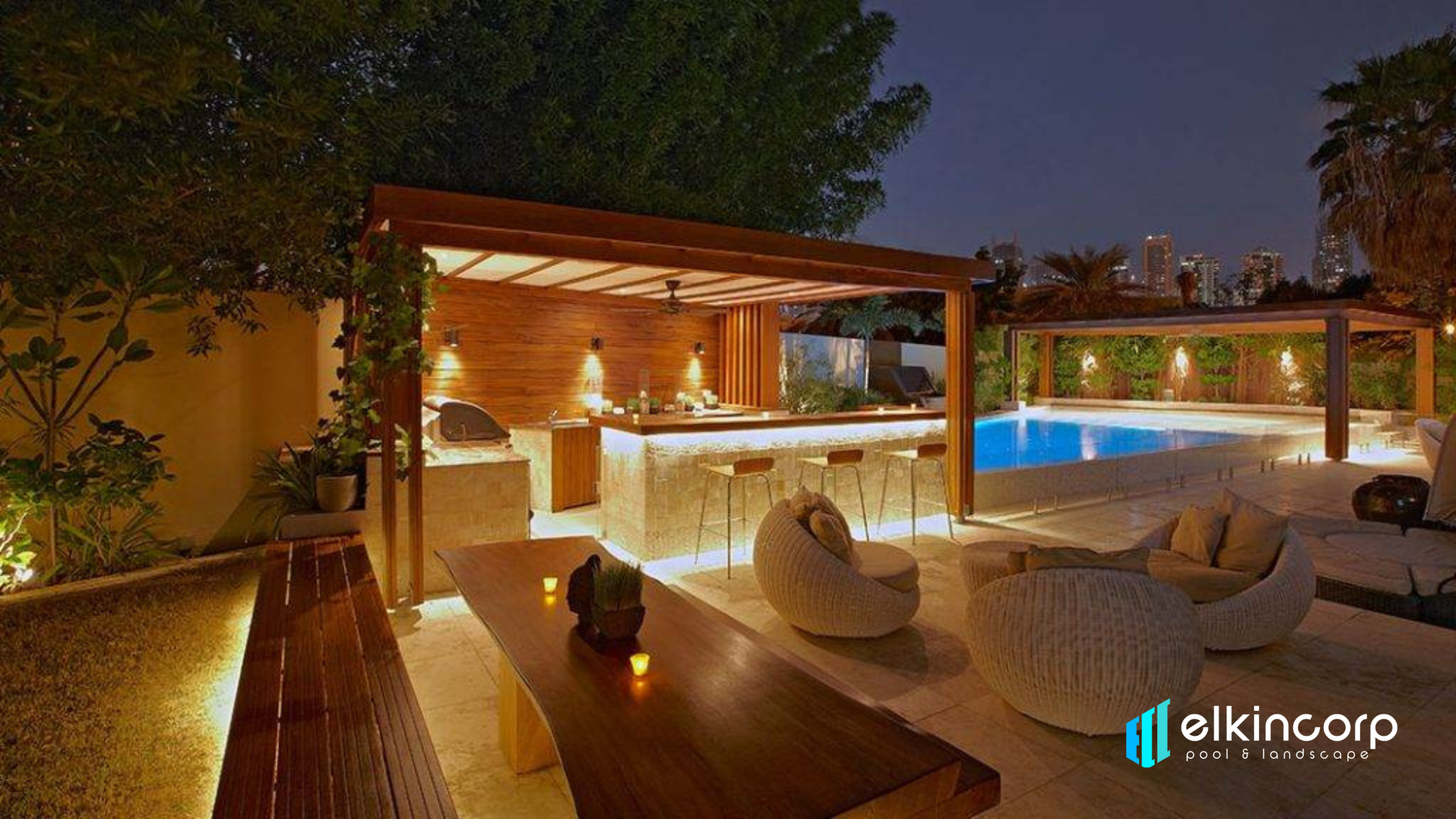 Instead of getting bogged down with flower beds, why not do something different and sprinkle your terraces and backyard with potted plants?
They are easy to maintain and can be used to add color and texture to your outdoor space.
They can be used to frame patios, entryways, pathways and swimming pools to create a natural, inviting look.
You can use potted plants to add height and dimension to your outdoor space, and they create natural privacy screens.
You can find potted plants in a variety of sizes, shapes and colors to suit any landscaping style, and they can be easily changed to suit different seasons and occasions.
Even consider using its pots to create a small vegetable garden where you can grow vegetables, fruits or fresh herbs. Combine business with pleasure! Use the services of the best backyard contractors in dubai.
#5. An In-Ground Swimming Pool for A Well-Equipped Backyard
A popular addition to any backyard, isn't it? Providing a refreshing oasis for hot summer days. In-ground pools come in a variety of shapes, sizes and styles to install in any type of outdoor space.
Whether you are considering a small molded inground pool for you and your partner or a large pool for the family and children, backyard pool and landscape company has something for everyone and every budget.
To create a relaxing and entertaining atmosphere, they can be personalized with features such as:
It's not just a question of aesthetics! In-ground pools generally add value to your property and are designed to fit any budget.
With regular pool and landscape maintenance, an in-ground pool can provide years of enjoyment and entertainment for your family and friends.
#6. Opt for Built-In Benches Instead of Overloading with Furniture
To arrange your yard, you often have to be ingenious in order to optimize the available space. If you are looking to design your backyard in a practical and functional way, opting for built-in benches can be a great option.
Instead of overloading your yard with furniture, this can also allow you to minimize the amount of furniture in your backyard, creating a more uncluttered and organized space.
These benches can be integrated into a patio or wall to maximize space while providing a comfortable place to sit and relax.
Backyard pool and landscape company can suggest many options that perfectly suits your style and aesthetic preferences since built-in benches can be made in a variety of materials, such as:
Add a practical and aesthetic touch to your outdoor space while maximizing the use of available space. Backyard contractors in dubai are well versed to make your dream true.
#7. Install A Pergola to Create A Shaded Space
To create a shaded space, the ideal solution is the pergola! Pergolas are stylish and functional garden structures that provide shed from the sun. They also add an attractive touch to your backyard outdoor space.
By choosing a pergola, you can personalize your backyard according to your tastes and needs, by choosing the size, shape, materials and color of the structure.
You can also add climbing plants to create a natural shaded space and bring life to your pergola.
Whether you are looking for a place to relax, share meals or entertain guests, a pergola can be the best addition to the backyard to create a shaded and comfortable space. Take help from pool and landscape contractors.
Add a practical and aesthetic touch to your outdoor space while maximizing the use of available space. Find one of the best backyard contractors in dubai.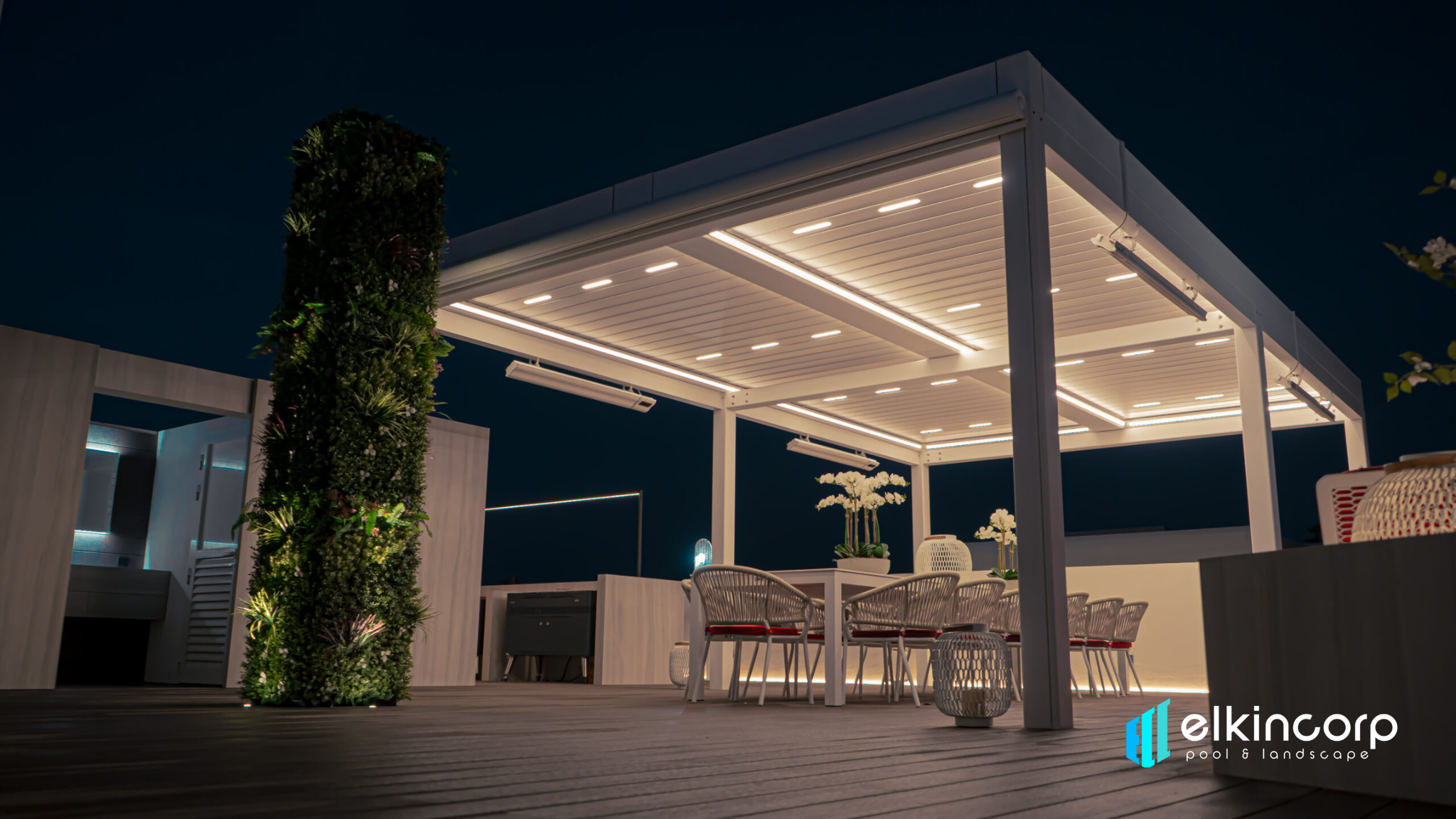 #8. An Outdoor Kitchen for Successful Meals with Friends
Setting up an outdoor kitchen is a growing trend for those who want to enjoy the summer outdoors. If you have an outdoor kitchen, you can make meals outdoors while enjoying the ambiance of your backyard.
Outdoor kitchens can be equipped with everything you need to prepare delicious and healthy meals:
You can give a personalized touch with according to your needs and desires, providing a friendly and comfortable space for cooking and eating outside.
#9. Create Custom Projects:
Some homeowners may have specific ideas or unique projects in mind for their backyard, and backyard contractors can work with them to bring these ideas to life. You can contact the best garden plants installation in dubai.
When designing an outdoor space, it's important to keep things simple, especially if the area is small.
Opt for a single material to cover the floor of your space and avoid overloading your terrace with a multitude of colors, patterns and materials.
The objective is to create a space for relaxation, so favor a reduced palette of materials and plantings to guarantee visual cohesion.
If you keep things simple and neutral, don't hesitate to add pops of color with plants, furniture and accessories to give character to your backyard.
Are you starting to think on some ideas? Don't hesitate to speak to pool and landscape company professionals to discuss the possibility of recreating these inspirations in your own backyard!
Talk to one of the best backyard contractors in dubai specialist for free now!