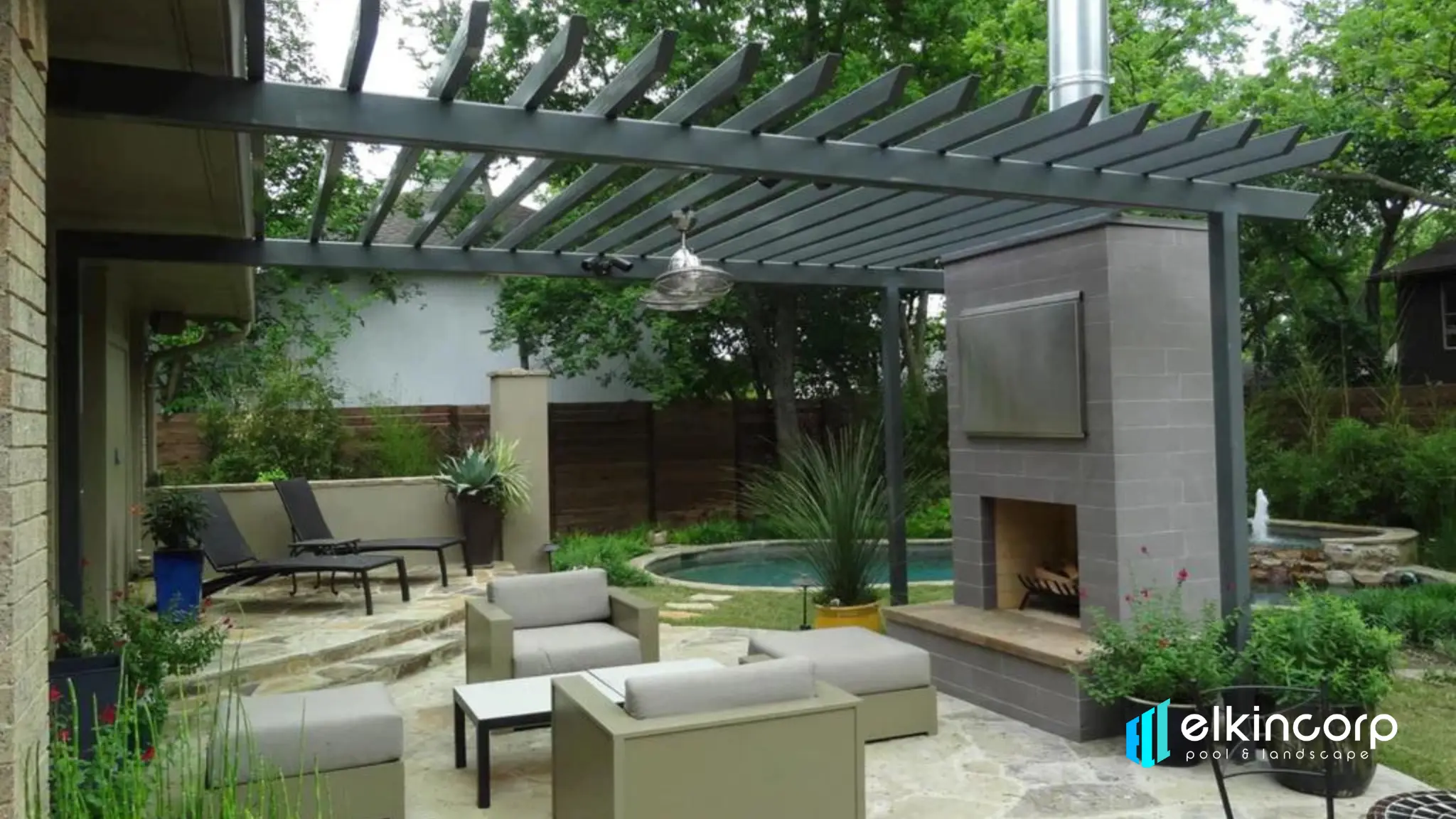 The Best Company for Pergola Design in Dubai
Elkin Landscape is a top company for designing pergolas and is the number one supplier of pergolas in Dubai. A pergola can make your garden look and feel much better. It's something that can change your outdoor area a lot. Pergolas aren't just for looks; they also have a purpose. They give shade and add style to your garden, creating a nice spot to spend time with your loved ones for a long time.
A pergola is a shade structure with a roof made of slats instead of a full cover. It is typically built using hardwood or concrete and lasts for many years.
Types of Pergolas We Made
Traditional Pergola

Wooden Pergola

Modern Pergola

Aluminum Pergola
Why pick us to design your pergolas in Dubai and UAE?
Elkin Landscape has the most outstanding landscape designers around! We make one-of-a-kind pergolas every time.

We talk directly with our clients and create designs based on their likings and wants.

We create pergolas in Dubai that are very budget-friendly.

Elkin Landscapes takes responsibility for the job and provides a high-quality product.

You can rely on Elkin Landscape for designing and building your villa's pergola. We have experience as an excellent pergola design company.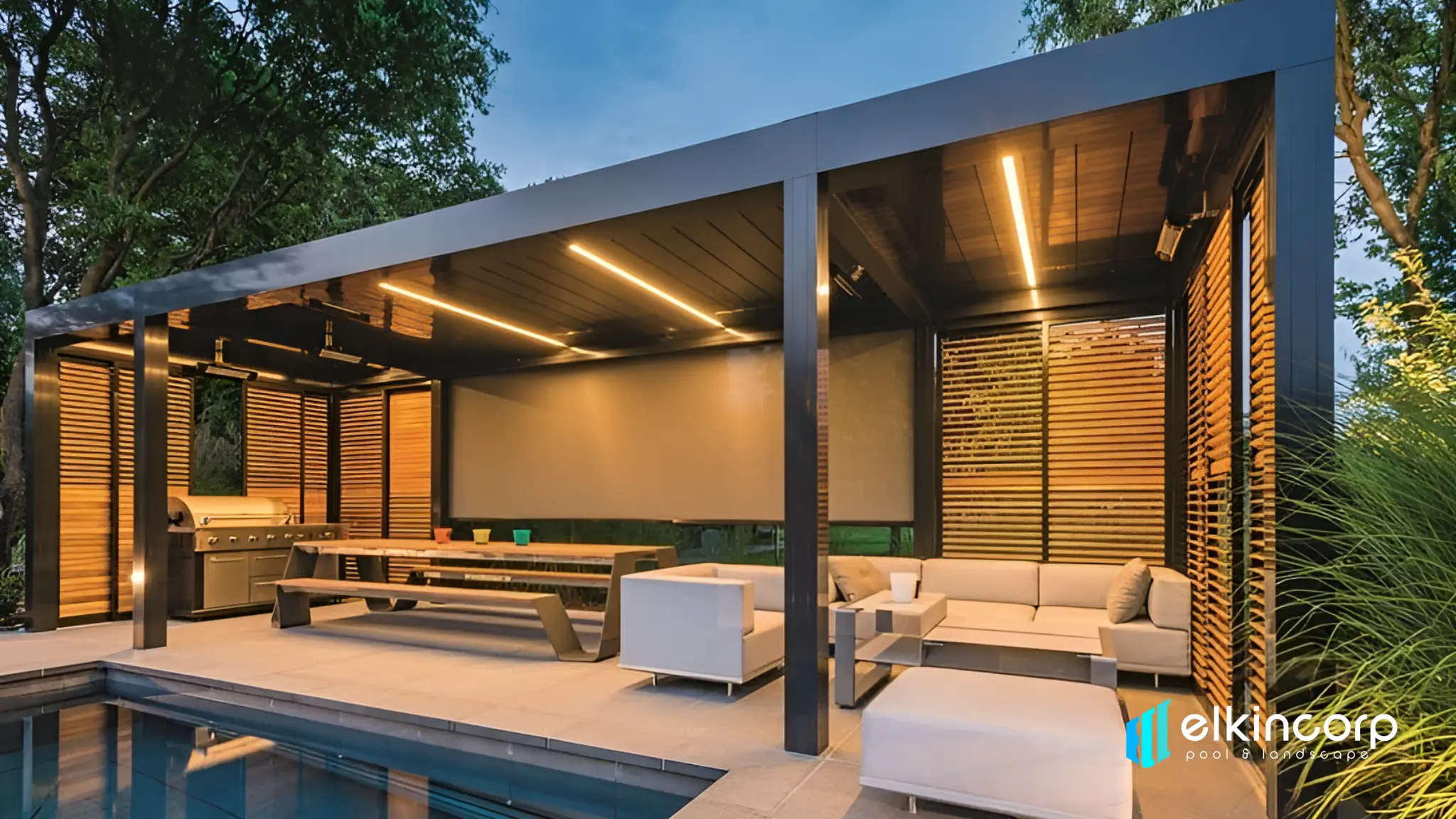 The Leading Pergola Suppliers in Dubai
Elkin is a landscaping company based in Dubai, offering high-quality pergola designs in the UAE. Pergola landscaping can be applied anywhere in Dubai. Consider pergolas if you have a villa or a standalone house and want to create a seating area in the garden. Adding a pergola to your garden in Dubai is a fantastic way to enhance its appearance quickly. It gives you and your family a nice place to hang out.
Pergolas can be built in business and home gardens based on your needs. Elkin provides you with the latest pergola designs. In the UAE, people often use pergola designs in their front yards because they are artistic and grab visitors' attention.
Qualified Pergola Design Company in Dubai
Pergolas are popular in many landscapes because they look nice and serve a purpose. Even though pergolas are commonly used in Dubai landscapes, the designers at Elkin Landscaping make sure that each client's landscape, whether a pergola or another structure, is unique.
Elkin Landscape creates unique pergola designs in various shapes and sizes to match the space, theme, and customer preferences. Designing and installing pergolas in Dubai has always been challenging for our company.
A pergola is an outdoor formation that can be freestanding, offering shade and style, or attached to a building. Pergolas typically have columns supporting a roof structure made of beams, forming a roof to provide shade in the garden.
Advantages of Having a Special Pergola Setup at Your Villa
Pergolas create a fantastic spot to hang out.

It gives shade but doesn't completely cover, which looks nice.

Pergola structures aren't just pretty; they're pretty and practical.

Pergolas are easy to take care of and give your place a nice look and a welcoming vibe for your guests.

Pergolas help vines in your garden grow, making it even more beautiful.