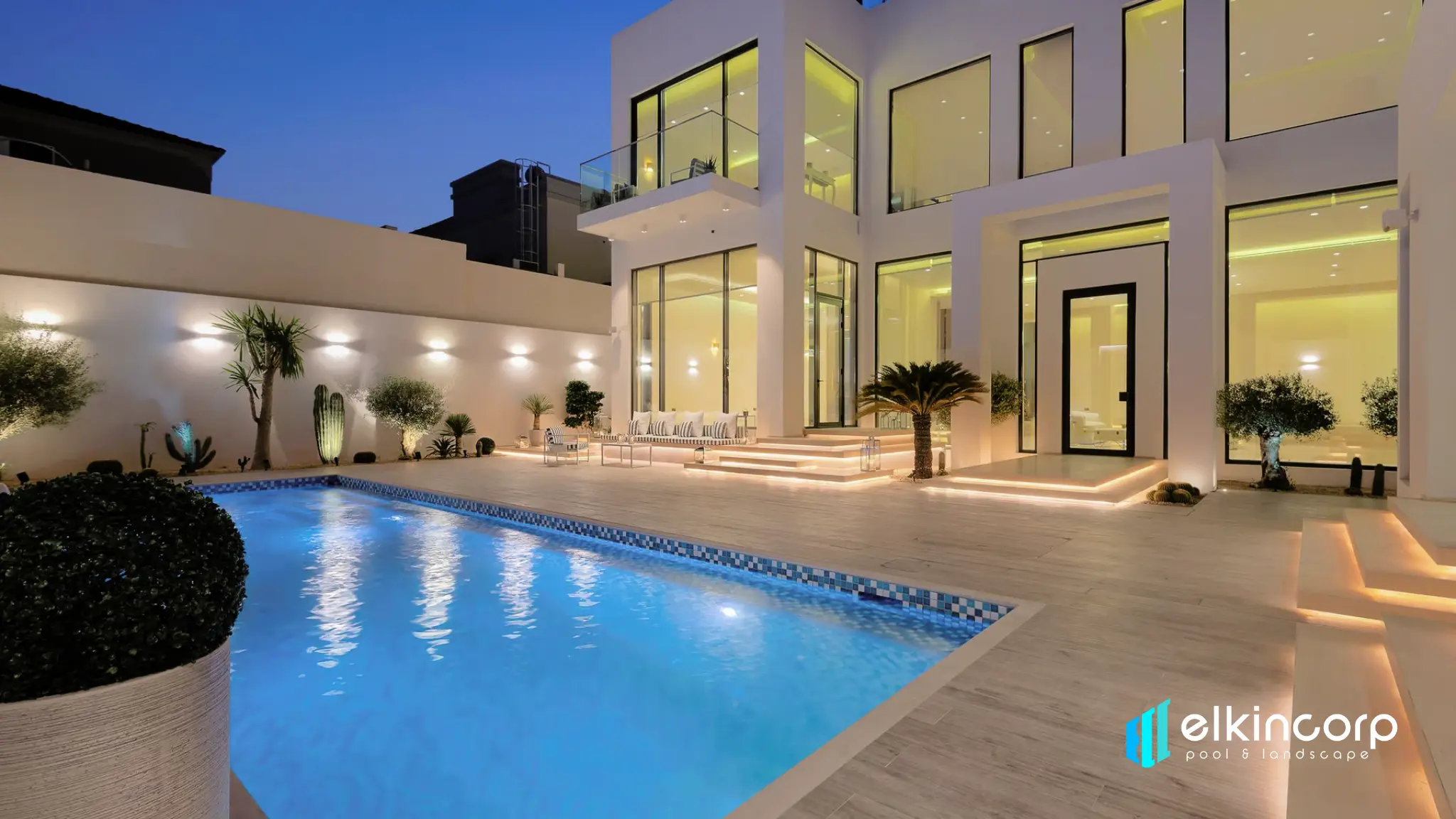 Swimming Pool Terrace: Importance, Choice, Installation and Maintenance Construction
The swimming pool on the terrace is much more than a simple outdoor arrangement. It is a space dedicated to relaxation, conviviality and aesthetics, playing a crucial role in the overall layout of the pool. In this article, we will explore why the pool deck is important and how to choose it, taking into account the deck covering, to take full advantage of it. Additionally, we will cover the installation and maintenance of this relaxation and enjoyment area and the benefits it offers for your outdoor space. Additionally, we will introduce you to the Best Pool and Landscape Company in UAE, designed to make maintaining your pool deck and deck easier with personalized reminder notifications.
Why is the Terrace Important Around the Swimming Pool?
The pool terrace creates a friendly environment where family and friends can relax and share pleasant moments. It is also a key element of the overall aesthetic of your garden and swimming pool. In addition to give a touch of sophistication, a well-appointed terrace offers a non-slip surface, thus limiting the risk of accidental falls around the pool. Additionally, investing in a deck with quality materials can increase the real estate value of your property.
How to Choose The Best Terrace For Your Swimming Pool?
The choice of material is essential when it comes to building a terrace. You have different options to create a warm atmosphere with wooden slats, a smooth and easy-to-maintain surface with tiles, a natural style with stone or versatility with concrete. It is important to take into account resistance to weather and UV rays to ensure the durability of the terrace. You can also opt for a mobile terrace for more practicality and adaptability. Consider playing with patterns, colors and colors to harmonize the terrace with the style of your garden and your home, thus creating a coherent and aesthetically pleasing atmosphere. Composite material is also a durable and affordable option for a durable and aesthetic terrace.
Installation of a Swimming Pool Terrace
Installing a pool on a terrace requires careful preparation of the ground and foundations. Once the foundations are well laid, proceed with the installation of the materials while respecting appropriate construction techniques. 
Important point: do not neglect the finishes to obtain a quality and harmonious result. It is recommended to call upon qualified professionals of Pool and Landscape Company in UAE to ensure a successful and compliant installation.
Care and Maintenance of The Terrace Pool
Regular maintenance is essential to preserve the beauty and durability of your pool deck. Clean it regularly to remove dirt and stains that can build up over time. Protect it against humidity, mold and the harmful effects of UV rays by using suitable products. Regularly check the condition of the terrace and make the necessary repairs in the event of cracks or damage.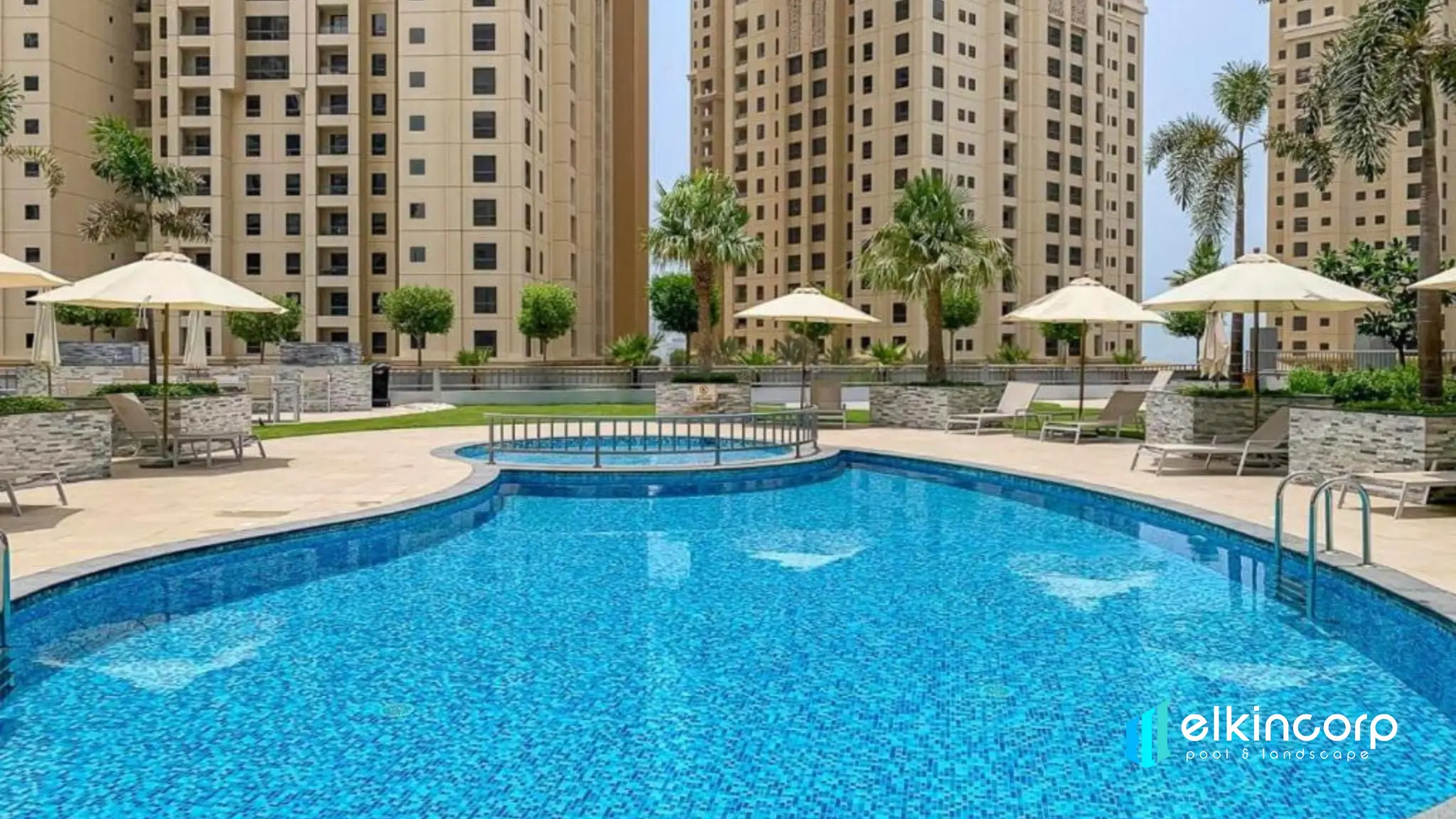 Using the Services of Pool and Landscape Company in UAE For the Pool Deck
Maintaining the terrace pool can be made easier thanks to the experts of the Elkin swimming pool maintenance team. By using their services, you can record all deck care and maintenance tasks. You will also receive personalized reminder notifications so you don't forget to clean your patio on time.
The terrace has an important role in the exterior design of your property. It offers a space for relaxation and conviviality, adding an aesthetic touch to your garden and swimming pool. You can enjoy a durable and attractive terrace by choosing the material wisely and entrusting the installation to a qualified professional from Pool and Landscape Company in UAE. Remember to maintain it regularly to preserve its beauty and functionality. With the Elkin swimming pool maintenance services, simplify the maintenance of your terrace thanks to personalized reminders for an unrivaled swimming pool experience in your garden.
‍Good swim!