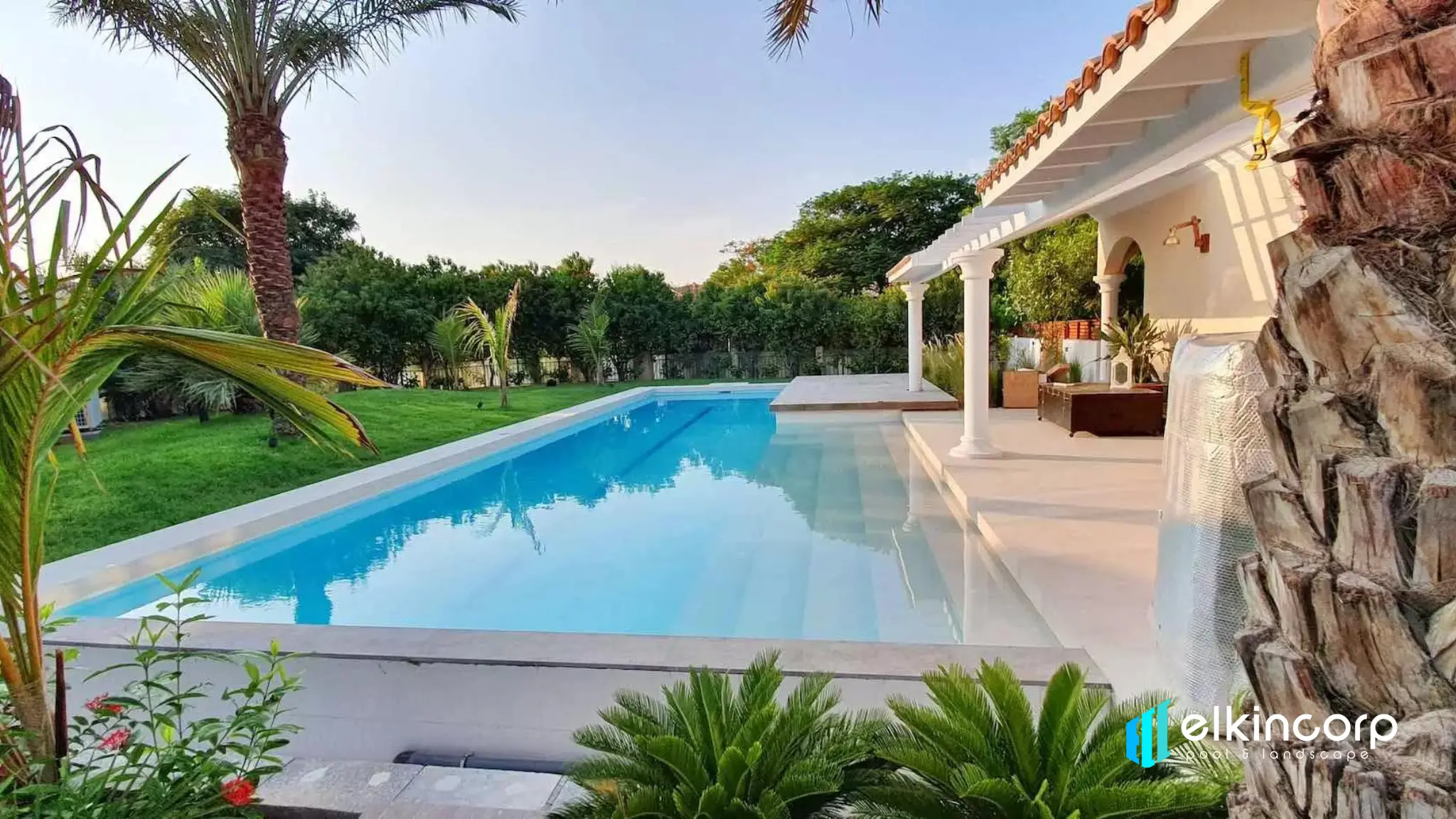 Pool Builders and Landscape Innovators in the United Arab Emirates
Elkin Pool Builders and Landscape Innovators stands as a highly esteemed firm in the United Arab Emirates, dedicated to delivering top-tier design and construction services for swimming pools, landscaping, outdoor environments, and interior spaces. Its remarkable achievement can be attributed to its unwavering commitment to customer satisfaction and its wealth of industry expertise.
The Elkin Pool & Landscape design crew derives inspiration from a wide array of influences to craft imaginative, original, and personalized landscape blueprints tailored for demanding urban and residential settings. These designs not only capture the essence of the client's vision but also arrive fully prepared for construction, eliminating the need for expensive modifications or complex interpretations. Our approach strictly adheres to industry-recognized best practices.
Pool Construction in Dubai
The Elkin pool construction team stands prepared to bring our designs to life seamlessly. We also smoothly transition the finished installation to our client's chosen maintenance vendor. We offer a comprehensive inventory detailing all plantings and system information, which serves as a valuable resource for any maintenance contractor in crafting their upkeep strategy. We understand that responsibility in the landscaping services sector entails collaborating with other companies, even those we compete with. Selecting the right landscaping company is pivotal to ensuring the overall triumph of your landscaping construction venture.
Elkin has conceptualized and constructed some of the most inventive and distinct swimming pools and outdoor environments across the most esteemed neighborhoods in the UAE. If you seek top-tier outdoor services from landscaping experts, Elkin's landscaping services extend to a diverse range of project possibilities.
Landscape Contractors Dubai
Elkin Landscape offers comprehensive landscape solutions, boasting a skilled team of environmental designers and horticulture experts, fully prepared to cater to your landscaping requirements. Our proficiency extends beyond just plant selection and maintenance. We are masters in all facets of landscaping. We're well-versed in constructing walls, walkways, paths, lighting arrangements, and water features, among other services. Our exceptional, budget-friendly services cater to residential properties, commercial establishments, and governmental bodies. Furthermore, we specialize in creating designs and planting arrangements that are drought-resistant and sustainable.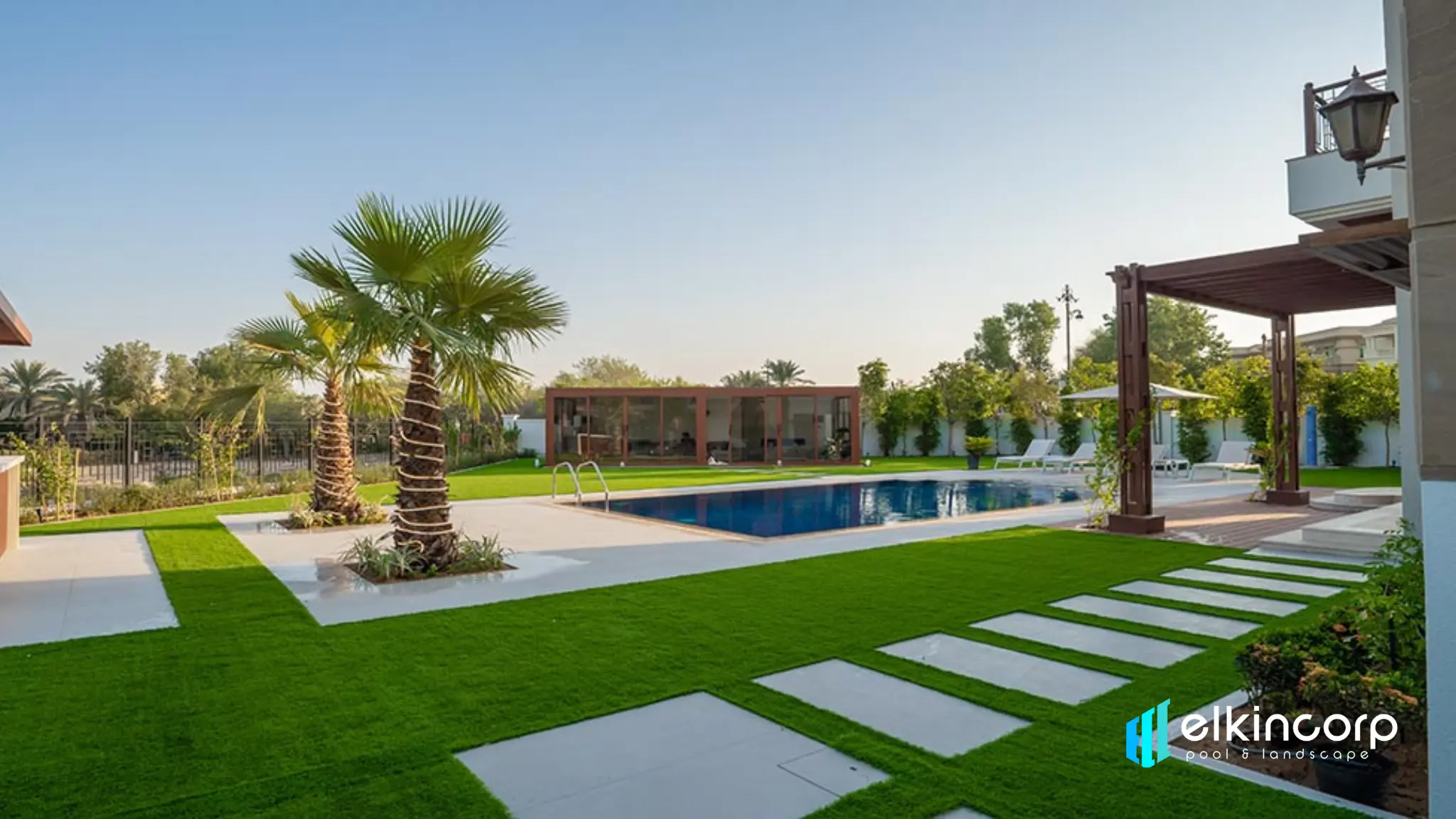 Swimming Pools Design & Build
At Elkin Pools, we offer a comprehensive service that encompasses the creation of entirely original, tailor-made pool designs, which we subsequently bring to life through construction. This service includes the provision of all necessary drawings, 3D renderings, and elevation plans. Our team have a wealth of experience in designing and constructing pools as well as outdoor areas within the Dubai region.
Selecting the appropriate contractor plays a pivotal role in ensuring the overall triumph of your outdoor venture. It's crucial to locate a pool and landscape contractor equipped with the expertise, experience, and proficiency to bring your project to fruition. At Elkin, we oversee every project with a committed team and a designated project manager. This ensures that, regardless of the project's phase, you'll have a clear point person in charge who possesses an intimate understanding of your job from start to finish.
Pool & Landscape Maintenance
Elkin Pools and Landscape Maintenance Services offer dependable and skilled property care. Our team consistently offers attentive care to your outdoor space. Opting for a professional landscape maintenance provider stands as the most efficient means to safeguard the investment you've made in your outdoor project.
We provide a range of maintenance plans tailored to the size and nature of your existing landscaped areas. The maintenance frequency can be customized to your specific requirements, ranging from daily on-site care to periodic visits as needed. We also offer less frequent maintenance options, including monthly services or one-time fundamental cleanups.