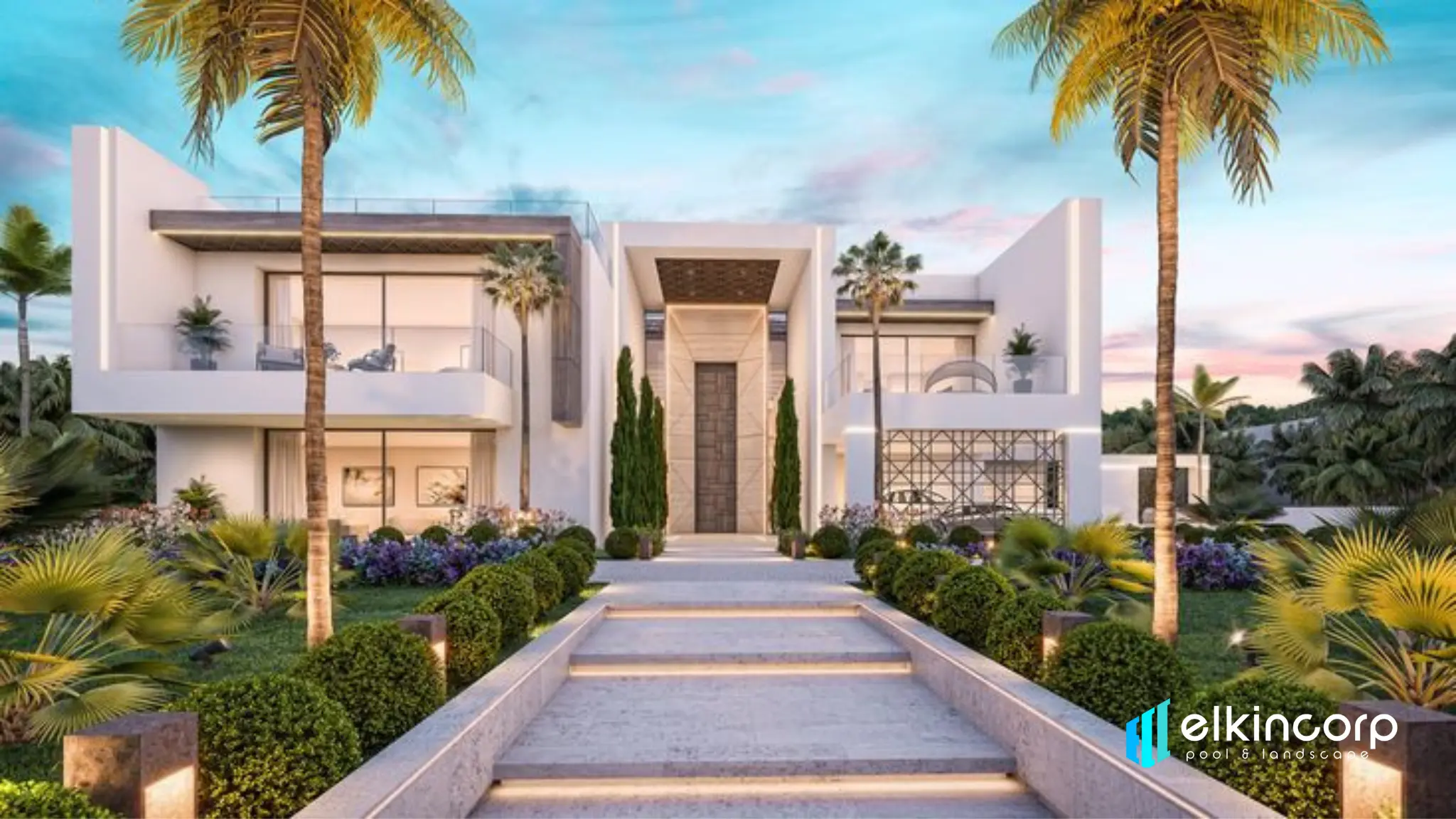 Let Us Create Your Dream Landscaping in Dubai
Elkin Pool and Landscape: Superior Quality Landscaping!
You like to feel comfortable in your interior, but have you considered landscaping and beautifying your exterior? Your land is an extension of your house.
Create an imaginary façade of landscaping in your thoughts and accomplish it. You will enhance your property value, and you prolong your evenings. Moreover, it offers you and your family the pleasure of contemplating the cycle of nature, and you also grant yourself the right to relax and unwind.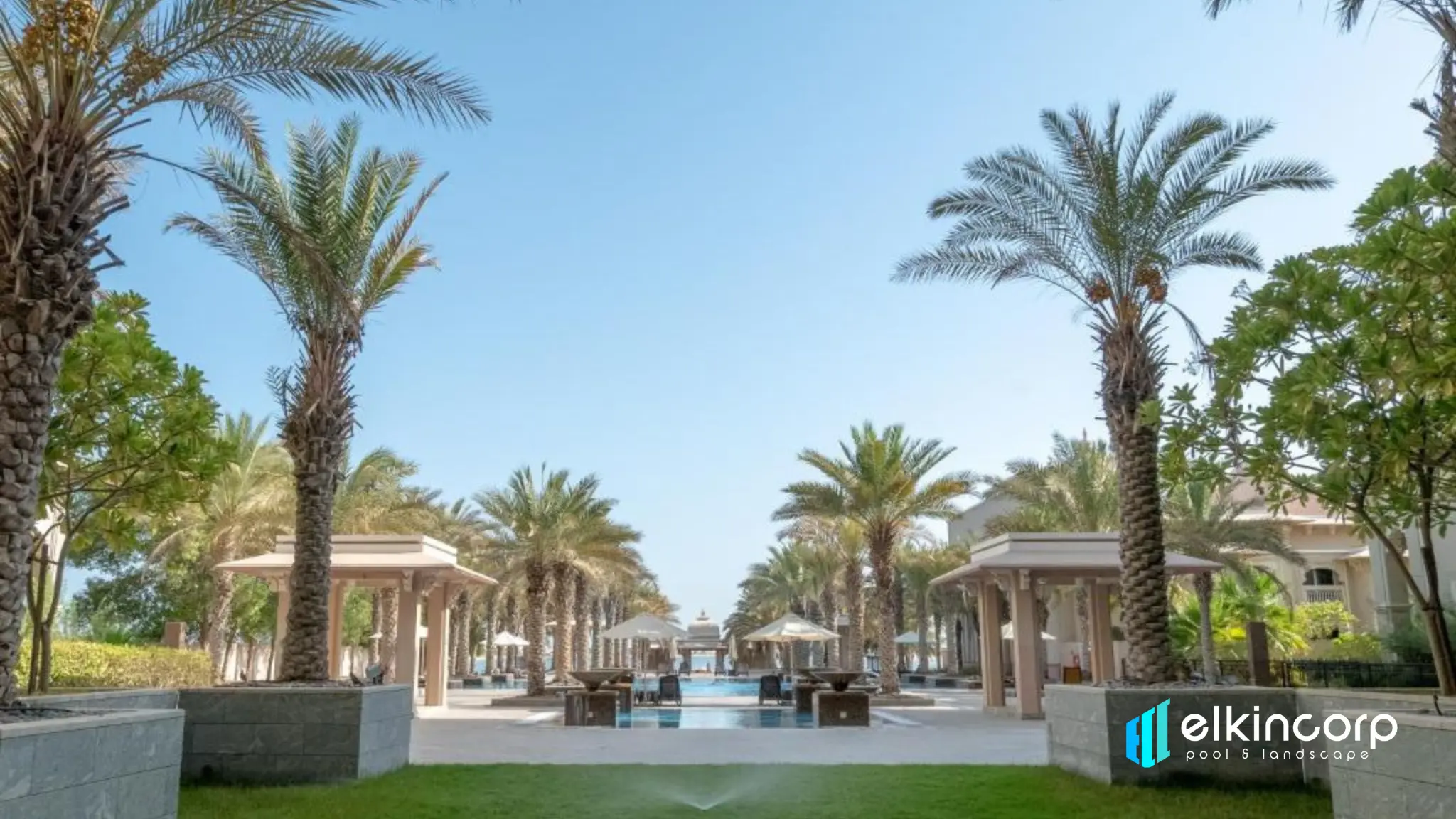 Do Business with A Professional Landscaper for Your Landscaping?
Landscaping brings the final touch to all your construction, renovation, and beautification projects. Whether for the paving of your floors, for the construction of a stone wall or a supporting wall, for the development of a terrace, for the installation of a patio, for the laying of grass or asphalt, or the creation of a waterfall, do not choose your exterior design contractor by chance!
Elkin Pool and Landscape is a landscaper expert in earthworks and landscaping since 1998. We offer a complete service to bring all your ideas to life. Choose us for your residence or business and benefit from our advice, excellent service, work quality, and competitive prices.
You will benefit from doing business with a specialist in paving stones, paving, and wall construction.
Skill and experience (in business since 1998) and quality guarantee on the work.
Free estimate and no deposit required. Custom-made projects and developments delivered turnkey.
Support from A to Z of the work. The landscape architect's plan is available on request.
Elkin Pool and Landscape is an authorized company to carry out projects for landscaping, Gardening, Swimming pool constructions, and services. We are responsible for obtaining permission from the Dubai Government Authorities
Pool & Landscaping Video Designed by Elkincorp Contr LLC
Elkin  Pool and Landscape is an authorized company to carry out projects for landscaping, Gardening, Swimming pool constructions, and services. We are responsible for obtaining permission from the Dubai Government Authorities
Do You Want to See Beautiful, Quality Landscaping?
Admire the plain paving stone surrounding the pool, selected specifically for its durability and aesthetics.
Garden walls are not only functional; they add a level of sophistication to the entire landscape. Freshly laid grass instantly gives your exterior a fresh and inviting look.
Simple, elegant, and above all, made to last. This is what characterizes Elkin Pool and Landscape quality. Take a few minutes to discover our completed projects in detail, and you will see why our customers are always satisfied!
Services Offered by Elkin Pool and Landscape
We offer a wide range of services, from the design of your landscaping to the laying of asphalt for your driveway and the construction of your patio, retaining wall, planting, and laying of paving stones.
Installation of Pavement, Driveway Paving and Asphalt
Laying paving stones gives a European character to your land and will increase the value of your home. The paving stone offers many advantages, such as flexibility, durability, and ease of repair. They are offered in several styles and colors that will match the personality of your layout. We also carry out complete asphalt paving, including leveling and compaction.
Stone and Retaining Walls
To be able to deploy your land on different levels without loss of space caused by possible slopes, it is advantageous to build retaining walls that allow you to add pleasant landscaping spaces. Additionally, these walls can make a flat, unattractive lot look better. We offer different types of quality materials such as paving stones, natural stones, concrete, and many others.
Treat yourself to unparalleled landscaping garnished with perennials or annual plants. Your land will become a dream place to take advantage of beautiful summer days with family or friends. We offer tree, shrub, and flower planting services: annual, biennial, or perennial, depending on the type of land and laying of turf (lawn).
Personalized Landscaping Designed for You
Creating landscaping means combining the beauty of the place and the functional side through constraints and outdoor space. Many procedures, rules, and methods help us do our work. But we must remember that it is also a creative work in which you are invited to participate by giving us your preferences in terms of shapes, colors, aromas, etc.
The exterior design must also meet several criteria, including improving outdoor living, commonly called Outdoor living. No one better than you know your practical needs and your lifestyle habits. Your cooperation will, therefore, be requested to determine your preferences.
Whether to enhance your home, have a vegetable garden for fresh vegetables, beautify the space around a swimming pool, have meals outdoors, or create a play area for children and friends, all your reasons are good to enjoy the summer season.
Elkin Pool and Landscape Engineers to Properly Understand Your Project
So that your landscaping meets your expectations but also so that its beauty lasts over time, it is important to undertake your project well and to do business with a specialist.
They know the procedures, regulations, and building codes in addition to being experts in plants, horticulture, sustainable development, watering, etc.
This makes it possible, for example, to highlight your courtyard by attracting the eye to a specific place, to offer privacy to private spaces, to seek out the best possibilities that your land offers and much more.
Take the time to meet the owner! Whether you already have a few ideas in mind or want to let us completely organize your project, we will work with you to carry out all your work to your greatest satisfaction.
The Landscape Expert Office Is on Sheikh Zaid Road Dubai.
We offer our landscaping services in the whole Dubai area. A few names include Al Barari, Arabian Ranches, Jumeira, Bay Al Habtoor City, Bluewaters Island, Bur Dubai, Culture Village, Deira, Downtown Dubai, Dubai Creek, Dubai Hills Estate, Dubai Marina, Dubailand, Emaar South, Emirates Hills, Green Community, Jumeirah Beach Residence, Jumeirah Golf Estates, Jumeirah Islands, Jumeirah Village Circle, Karama /Al Kifaf / Za'abeel, Mohammed Bin Rashid City, The Lakes, The Meadows, The Villa, The World Island, Tilal Al Ghaf, Victory Heights, and others.
Note: We also undertake projects from other Emirates of the United Arab.