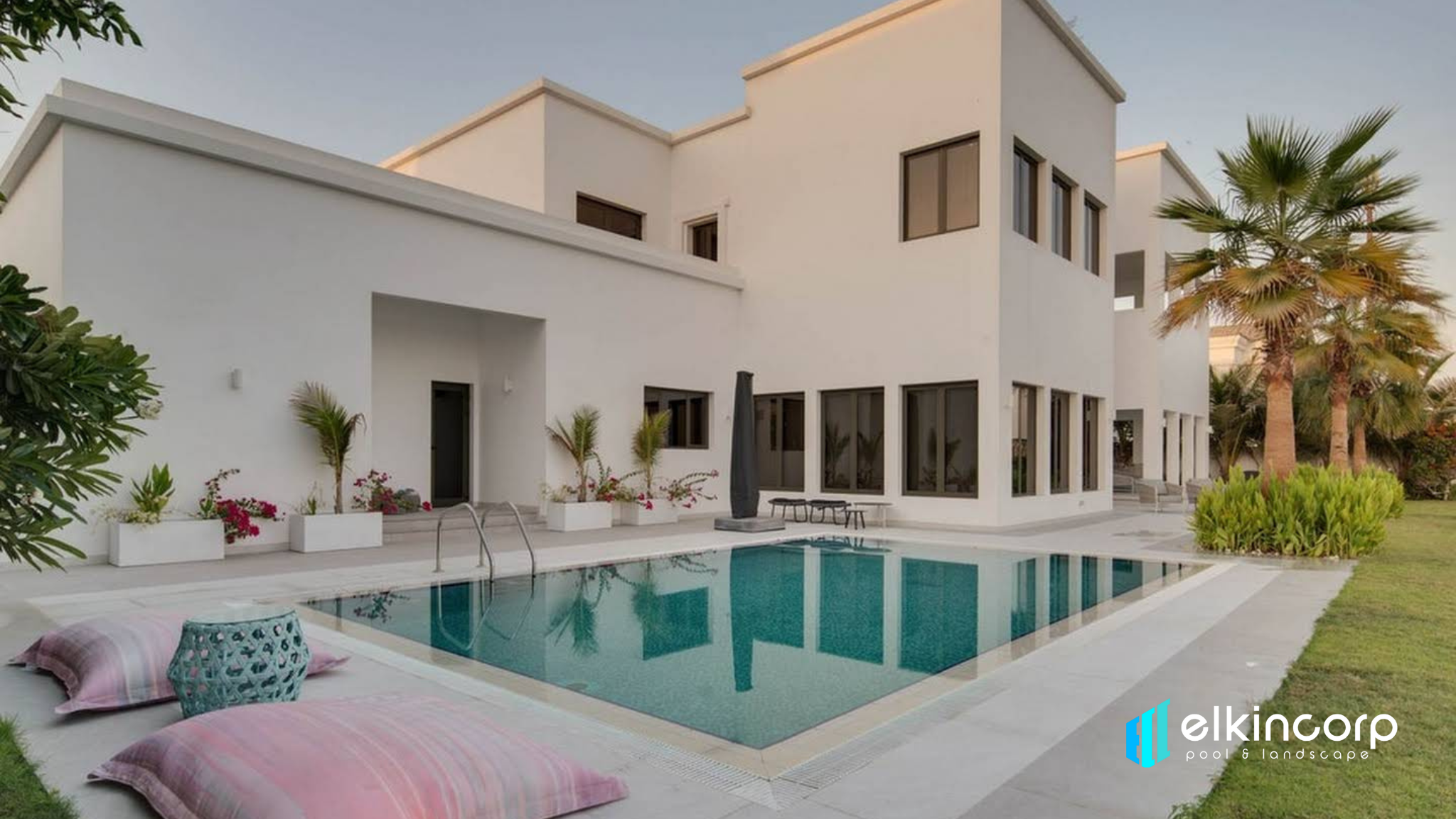 Know Expenses of Having a Swimming Pool in Home
When you search for the best pool and landscape companies in Dubai, you will find out several options. But, choosing the right company can be challenging. However, having your own swimming pool can be really relaxing, but there are hidden expenses that might not be so glamorous beneath the clear water. There are so many pool and landscape contractors out there that offer the best prices, but you have to pick the best company.
Certain pool expenses are bound to happen, but to avoid stress and fully enjoy your new pool, it's smart to be well-prepared. That's why we made this detailed guide. In the upcoming sections, we'll look at the costs people often forget about when they own a pool, like digging and maintenance, so you can feel completely ready to get your own swimming pool.
The Typical Expenses That Come with a Pool
Pool Insurance
Pool Maintenance
Landscaping
Pool Heating
We understand that some of these expenses can vary a lot, and not all of them are relevant to every pool. So, let's take a closer look at each surprise pool cost.
Swimming Pool Insurance
Swimming pools are enjoyable but can be risky, and accidents may happen, which could result in legal responsibilities. If you own a pool, you might need to buy extra pool insurance because your regular home insurance might not cover pool accidents. The cost for this unexpected expense can change based on your pool's size, where it is, and how much coverage you want.
The price you pay for insurance can be different depending on how big your pool is, what it looks like, and if it has things like slides or diving boards. Pools with extra stuff or seem riskier might cost more to insure.
If your property is in an area where there are often big storms like hurricanes or tornadoes, you might have to pay more for insurance. This can be important information to consider when discussing insurance with swimming pool installation contractors.
Insurance companies for pools might give you a price cut if you make the pool area safer. You can do this by adding things like alarms, covers, fences, and other stuff that helps prevent accidents.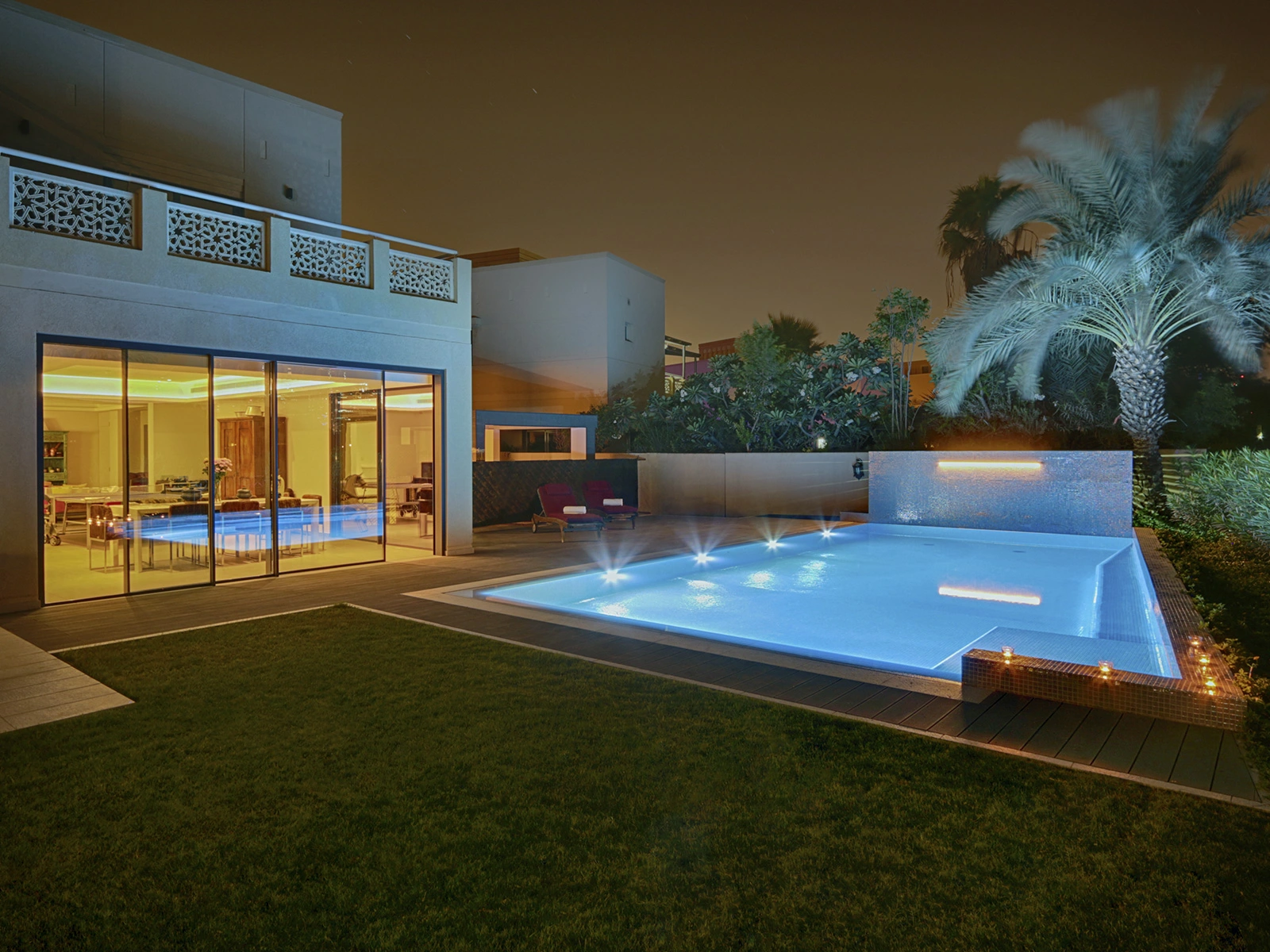 Swimming Pool Maintenance
It's crucial to regularly take care of your pool to make sure the water stays clean, safe, and balanced for swimming. This means you'll have to spend money regularly on things like chemicals, cleaning tools, and sometimes getting pool and landscape companies in Dubai professionals to help out. Maintenance is a significant part of the unexpected costs to keep in mind because it includes different aspects:
Keeping the pool water clean and safe for swimming is very important. You have to use chemicals like pH balancers, chlorine, and other stuff to do this. The cost of these chemicals depends on how big your pool is and how often you need to use them.
You need tools like brushes, nets, and vacuums to clean your pool and keep it tidy by getting rid of dirt and stuff. It's also important to regularly test the water to check if the chemicals in the pool are at the right levels.
If you get a professional pool and landscape maintenance service to do these maintenance jobs, it can save you time and effort. The price for professional pool maintenance can change based on how often they come, how big your pool is, and how much help you need. You can do the work yourself, but sometimes it's worth spending money to hire a professional to do it for you.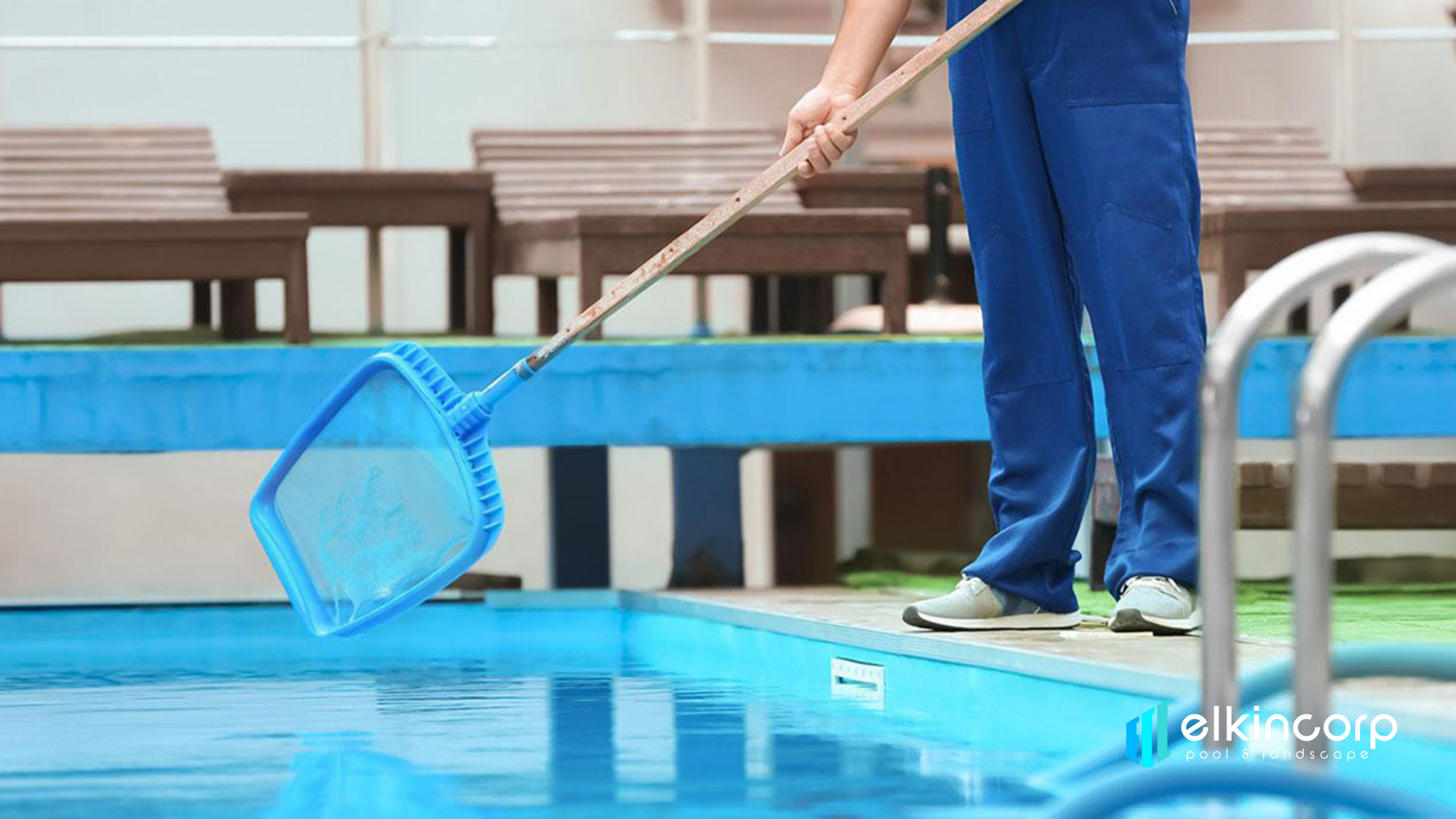 Landscaping & Swimming Pool
Having a nice pool also means having nice surroundings around it, called landscaping. You can do it by one of the best pool and landscape companies in Dubai. But making the pool area look good needs careful thinking and taking care of it often. So, homeowners need to think about the money they'll spend on plants, systems that water the plants, and services that keep the area around the pool nice. If you don't take care of the landscaping part of owning a pool, it can lead to issues like soil getting washed away or stuff piling up. Here are some things to think about:
Picking the most suitable plants for your space makes everything look nice and put together. People often choose flowering shrubs, palm trees, and tropical plants to make the pool area pretty, but they can cost more because they need a certain kind of weather to grow well.
Putting a border around the pool makes it clear where the pool area starts and gives the whole place a neat look. The stuff you use for this border, like concrete, brick, or stone, usually doesn't cost too much. You can find experts from pool and landscape companies in Dubai
Giving the plants near the pool the right amount of water is really important to keep them healthy and looking good. To do this, you can put in a system that drips water on the plants or a machine that sprays water automatically. This way, you don't water them too much or too little.
Getting experts from a swimming pool construction company to do your landscaping means they'll make it look great and do a top-notch job. The price for landscaping services can change based on how big the project is and how much skill is needed.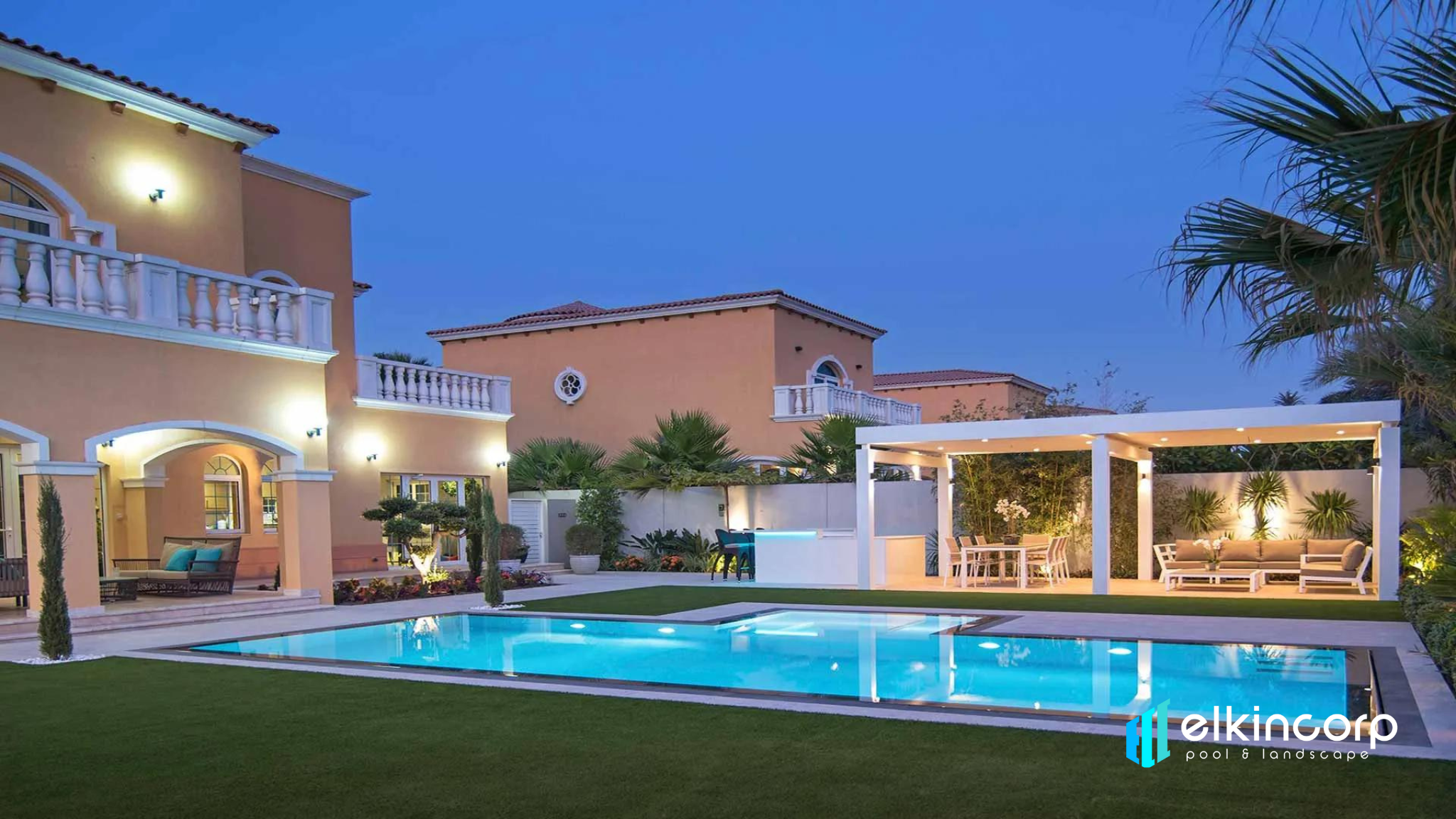 Pool Heating
If you live in a cold place or want to swim when it's not so warm, you'll need something to heat your pool. How much it costs to heat your pool depends on the kind of heating system you pick, how big your pool is, where you live, how often you use the pool, and if you keep it covered when you're not swimming. You have to spend money on the following things for this purpose:
Lots of people like using gas heaters to warm up their pools fast, especially if they have small pools or hot tubs.
You need to use heat pumps in work by using electricity to take warmth from the air around and put it into the water.
Solar heaters use the sun's energy to make the pool water warm. They're good for the environment and don't cost too much to run.
To Sum Up | Swimming Pool in Home
Having a swimming pool can make you happy and relaxed, but it can also cost you more than you might think. You'll need to pay for things like pool insurance, taking care of the pool, making the area around the pool look nice, and heating the water. It's important to plan and budget for these extra costs to make sure your pool is safe and fun to use. You can't do these things yourself. You need to get pool and landscape companies in Dubai experts to help you, but knowing about these potential expenses will help you make good choices and have a great time with your pool.