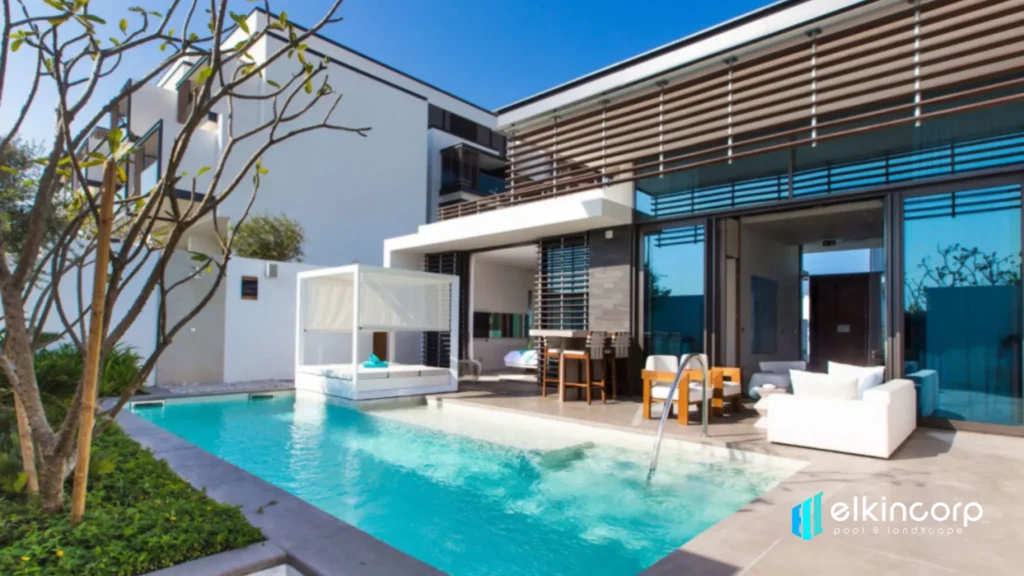 The Leading Swimming Pool & Landscape Company in Dubai
Elkin is the leading swimming pool contractor and landscape contractor in Dubai and around UAE. We are known for our excellent service and ultimate dedication. We try our best to design and build the most innovative swimming pool designs that suit your budget and style. Our company also offer a range of other services, such as landscaping, water features, pool fencing, and more.
When you search for the best swimming pool company in Dubai, Elkin will definitely come first. This is because we give the utmost satisfaction and relaxation to our clients from start to finish. Our blend of landscape and swimming pool designs will certainly catch your attention.
We are considered one of the best landscaping companies in Dubai. We offer distinctive landscaping concepts suitable for a variety of property types. Partner with us, and your outdoor space will exude a remarkable charm that captivates and draws in visitors. Elkin is a landscape design company that will help you make your dreams come true.
Swimming Pool Contractors in Dubai
From the initial pool design concept to turning it into a tangible reality and even adding those finishing touches and additional features, our residential pool company handles every aspect for you. When you opt for us as your chosen swimming pool company in Dubai, you can have peace of mind knowing that we will design and bring to life your envisioned dream swimming pool.
As one of the top swimming pool contractors in Dubai, we take pride in having created some of the most opulent and tailor-made swimming pools. Our reputation is built on our exceptional design expertise, innovative swimming pool concepts, and the meticulous execution of projects with a strong emphasis on quality and timely completion. Our team excels at delivering top-notch swimming pool designs. They are customized to meet each client's specific needs. This is why we are recognized as one of the best swimming pool companies in Dubai.
We make certain that the design of your swimming pool harmonizes seamlessly with the aesthetic and style of your home, aligning perfectly with your vision of the ideal swimming pool. Whether it's a small or large pool, our swimming pool company in Dubai guarantees that you will have a pool in your residence that you and your family will genuinely adore.
Landscape Contractors in Dubai
Elkin is one of the best landscape companies in Dubai, UAE. We have highly qualified landscapers that can build amazing and contemporary landscapes. Our devotion, as a reputable landscape design company in Dubai, is centered on ensuring your contentment.
Whether you aim to enhance the outdoor area of your residence with a mesmerizing landscape, a swimming pool, or infuse charm with delightful water features, or even a combination of these, you need not search any further than our Landscape and Swimming Pool Company in Dubai.
Our Expertise
We leverage our individual strengths by pooling our collective experiences and creative insights to generate exceptional concepts and deliver tangible results for our clients. Given that swimming pools epitomize a leisurely lifestyle, our swimming pool company's experts engage in brainstorming sessions to create distinct and captivating features, along with the best swimming pool designs in Dubai. These designs are to entice you and your loved ones to enjoy more quality time outdoors and have fun. Our distinctive qualities, unwavering dedication, and our deep comprehension of our clients' desires set us apart from other swimming pool companies in Dubai.
In search of a reputable swimming pool and landscape design company in Dubai? Look no further than Elkin. With our exceptional skills and knowledge, we will construct an outstanding swimming pool and create a stunning landscape for your property.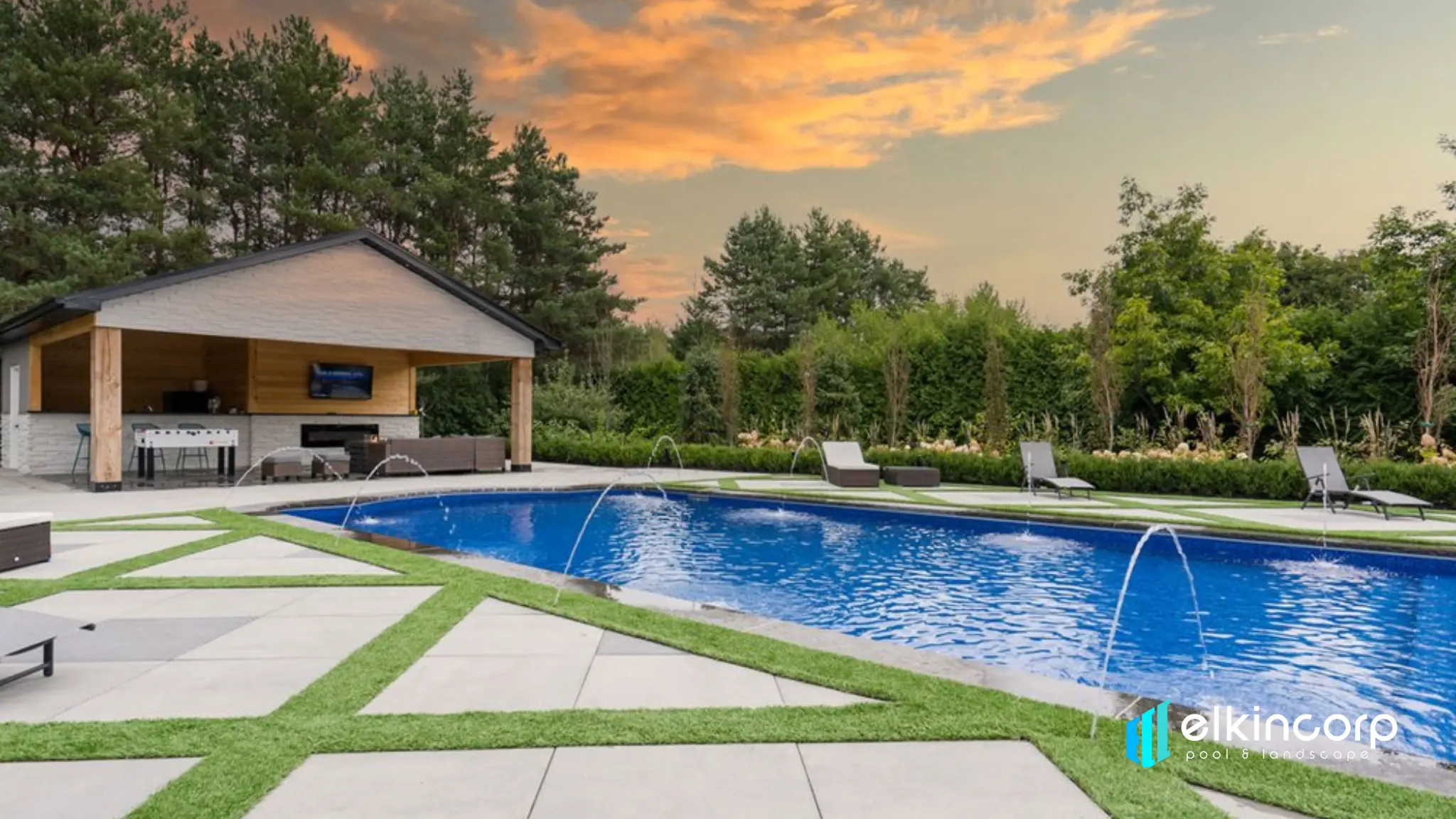 Why Should You Hire Elkin as Your Landscaping and Swimming Pool Contractor in Dubai?
Elkin boasts a team of highly skilled and seasoned designers and construction experts with more than a decade of experience in the industry, delivering the best swimming pool designs in Dubai. Our staff possesses extensive know-how and proficiency in crafting exquisite landscapes and constructing magnificent swimming pools. What sets us apart from other landscaping and swimming pool companies in Dubai is our commitment to staying abreast of the latest trends and techniques, ensuring we offer distinctive designs.
Residential Swimming Pool Company
Being among the best landscaping and swimming pool companies in Dubai, we offer an extensive array of services. Our offerings encompass swimming pool construction, along with landscape design and construction. Within our residential swimming pool company, we meticulously oversee all aspects of the projec. We are ensuring precision from the initial conceptual design right through to the concluding installation phase.
Best Swimming Pool Design Companies in Dubai
Elkin landscape stands out as one of the best swimming pool design companies in Dubai. We are presenting the most chic and contemporary designs. As swimming pool contractors, we place great importance on staying at the forefront. Also, creating landscapes and swimming pools with a modern flair. Our team continuously works in close partnership with customers. They obtain a complete knowledge of their tastes, lifestyles, and financial constraints. It helps in delivering outcomes that surpass their expectations.
Landscaping and Swimming Pool Company
As one of the best landscaping and swimming pool companies in Dubai, we offer great visualization of your projects in 2D and 3D. In this way, you can easily see designs and ideas for your dream project. For landscape and swimming pool construction, we work closely with you so that you can get exactly what you have dreamt of.
Elkin landscape, the best swimming pool company in Dubai, exclusively employs premium materials and advanced construction techniques. We work in close partnership with reputable suppliers to source durable and eco-friendly products. Our unwavering commitment to meticulous attention to detail and a dedication to quality guarantees that your landscape or swimming pool is to the most exacting standards.
In search of one of the best swimming pool companies in Dubai? Or perhaps you're on the hunt for a customized landscape design contractor in Dubai? Whatever your requirements, place your trust in us.
Read More
Elkin Pool and Landscape Company to Beautify Outdoor Space