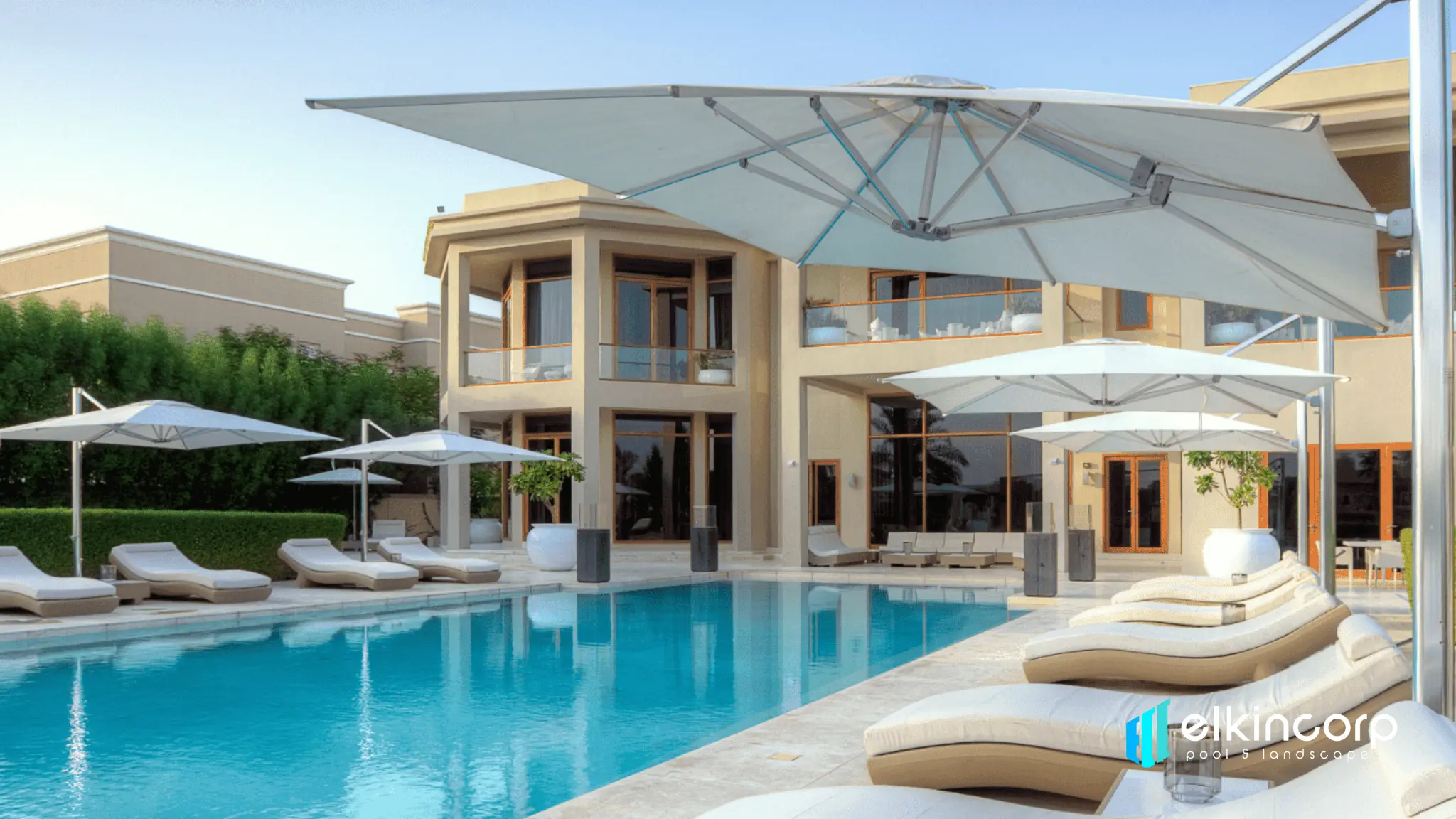 Best Swimming Pool and Landscape Company in Dubai
Elkin is the top choice for making swimming pools in Dubai, UAE. We're a big Pool and Landscape Company that makes special pools for people in Dubai and nearby areas. Whether you want a pool for your home or business, we provide the best quality pool-building services.
We can turn your dream pool idea into an actual pool. You're in the right spot if you need the best swimming pool company for your project. Contact us now, and we'll be glad to assist you. Elkin pool and landscape is a well-known name among pool companies in Dubai, thanks to our hard work and commitment to doing great work and making customers happy.
We've been making different types and sizes of swimming pools in Dubai and the UAE. Elkin Landscape has a group of talented, young, and active individuals, along with modern tools and technology, which has helped us set a high standard in the swimming pool business in Dubai. That's why we are a leading company in Dubai.
Professional Swimming Pool and Landscape Company
Elkin is the best swimming pool company in Dubai and is highly recommended by people. We provide excellent swimming pool services like designing, building, cleaning, and keeping it in good shape. Safety is our top priority, and we make sure your pool meets all the safety standards.
We build pools for homes, inside and outside, so families can have fun. We also create garden pools in Dubai to make your villa's garden look better. A garden pool makes the place look nicer right away.
Elkin can also design and build different kinds of pools, like diving pools and big Olympic-sized ones. We're the best in Dubai and the UAE at making pools, and that's why we're known as the top Pool and Landscape Company in Dubai.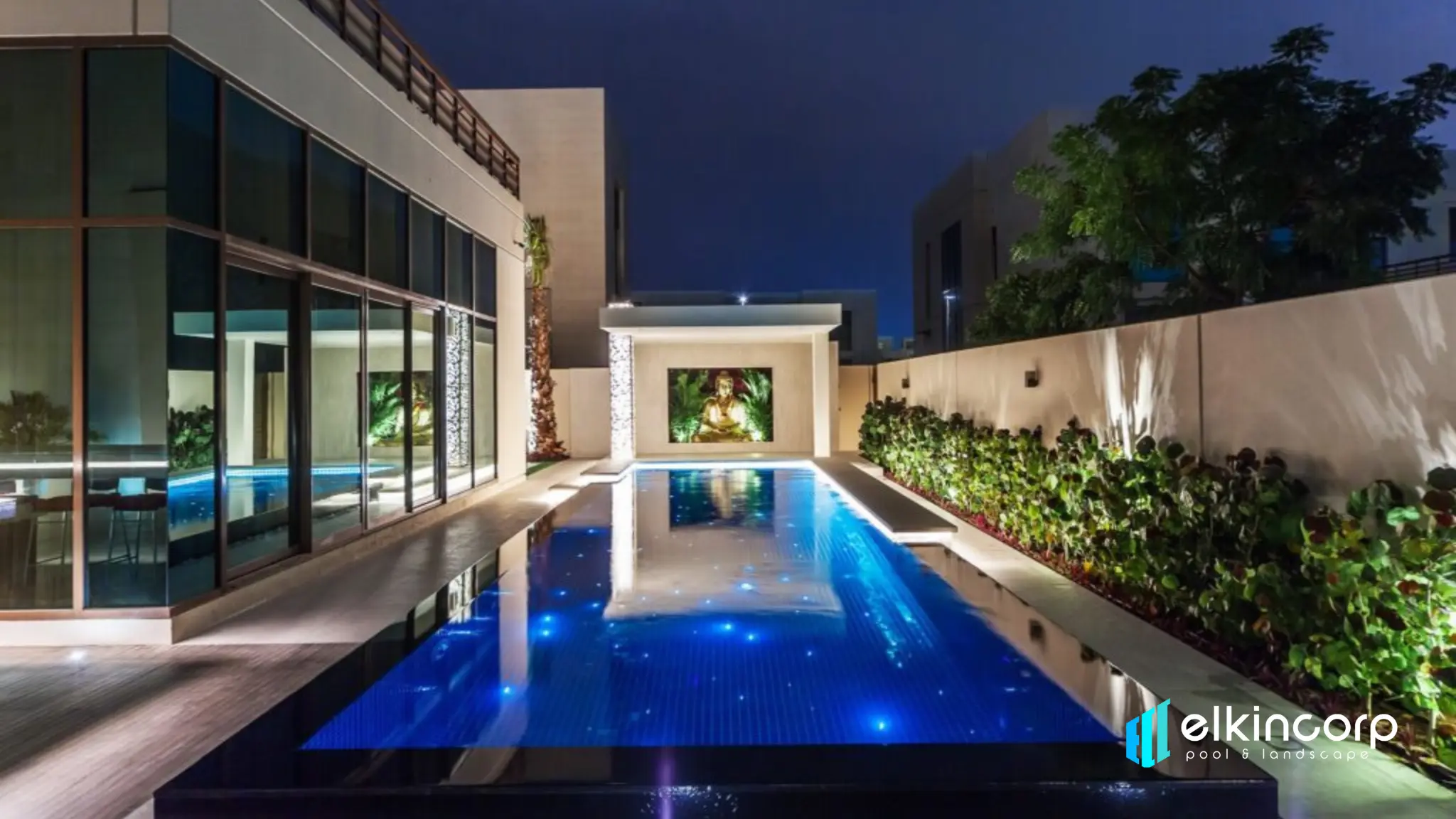 What Makes Elkin the Top Pool and Landscape Company in Dubai?
At Elkin, only skilled and certified experts handle pool construction. They don't cut corners and make sure the work is top-notch. They know how to plan, design, dig, and use suitable materials for the pool. Our excellent work will show our quality.
Even though we're located in Dubai, we work all over the UAE. We build pools in big cities like Dubai and many other places across the country. Our presence is strong all over the UAE because we've built lots of pools here.
We've built indoor and outdoor pools across Dubai and the UAE. We care about our customers and do everything we can to make them happy, including ensuring our pools are high quality and fit within their budget.
Elkin Landscape has been part of the swimming pool business in Dubai for a long time. We're not just experienced as a company, but all the experts on our team are really skilled.
Trusted Swimming Pool and Landscape Company in Dubai
At Elkin, we also specialize in building and designing swimming pools, besides working on landscapes. Pools can make your home or villa look much better. Moreover, unlike many other things, having a pool can make your property worth a lot more money.
Even though many landscapers in Dubai offer services like swimming pool construction, what makes us special is our dedication, smart use of resources, creative ideas, and finishing projects on schedule. We've set our own high standards with our customers, and they really like what we do. Elkin Landscape Company provides top-quality swimming pool services tailored to our customers' needs.